Themabewertung:
Die Biden-Administration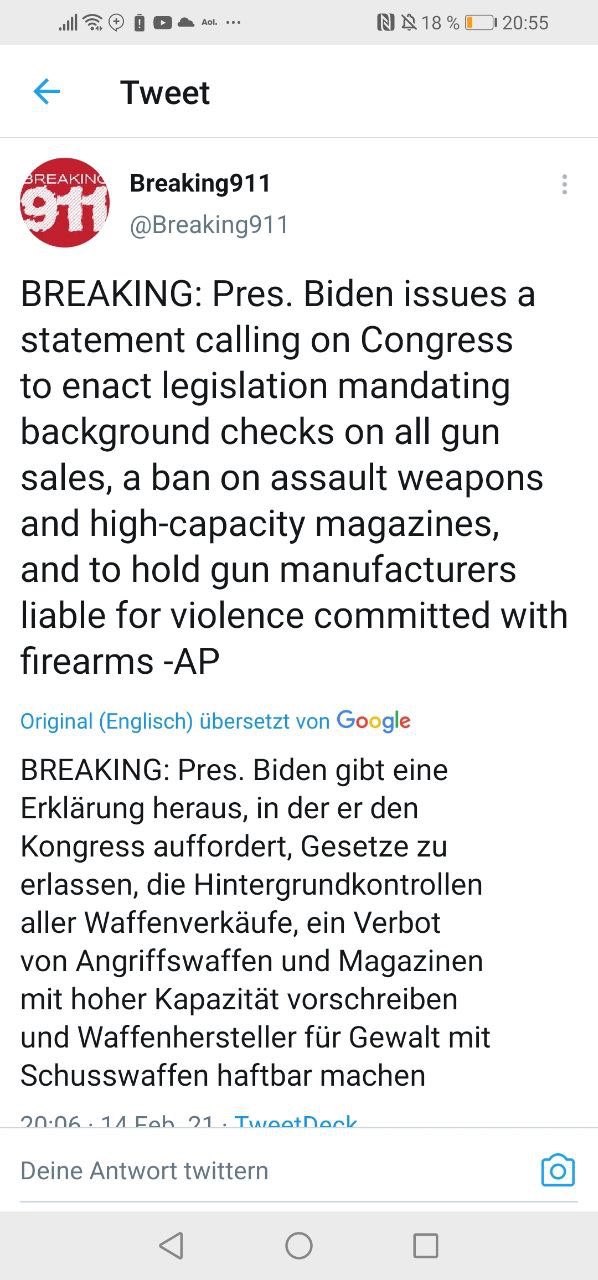 (da wird keine Zeit verschwendet)
How Conspiracy Theorizing May Soon Get You Labelled A "Domestic Terrorist"
Authored by Matthew Ehret via The Strategic Culture Foundation,
If you are starting to feel like forces controlling the governments of the west are out to get you, then it is likely that you are either a paranoid nut job, or a stubborn realist.
Either way, it means that you have some major problems on your hands.
If you don't happen to find yourself among the tinfoil hat-wearing strata of conspiracy theorists waiting in a bunker for aliens to either strike down or save society from the shape shifting lizard people, but are rather contemplating how, in the 1960s, a shadow government took control of society over the dead bodies of many assassinated patriots, then certain conclusions tend to arise.
Three Elementary Realizations for Thinking People
The first conclusion you would likely arrive at is that the United States government was just put through the first coup in over 58 years
(
yes, what happened in 1963 was a coup
). Although it is becoming a bit prohibitive to speak such words aloud in polite society, Nancy Pelosi's official biographer Molly Ball, recently penned a scandalous Time Magazine article entitled 
'The Secret History of the Shadow Campaign that Saved the 2020 Elections'
 which admitted to this conspiracy saying:
"Even though it sounds like a paranoid fever dream- a well-funded cabal of powerful people, ranging across industries and ideologies, working together behind the scenes to influence perceptions, change rules and laws, steer media coverage and control the flow of information." (
Lest you think that this was a subversion of democracy, Ball informs us that
 "they were not rigging the election; they were fortifying it.")
Another conclusion you might come to is that many of the political figures whom you believed were serving those who elected them into office, actually serve the interests of a clique of technocrats and billionaires lusting over the deconstruction of western civilization under something called "a Great Reset".
Where this was brushed off as an unfounded conspiracy theory not long ago, even Canada's Deputy Prime Minister (and 
neo-Nazi supporting
 Rhodes Scholar) Chrystia Freeland 
decided to become a Trustee of the World Economic Forum
 just weeks ago. In this role, Freeland joins fellow Oxford technocrat Mark Carney in their mutual endeavor to be a part of the new movement to decarbonize civilization and make feudalism cool again.
Lastly, you might notice that your having arrived at these conclusions is itself increasingly becoming a form of thought-crime punishable in a variety of distasteful ways elaborated by a series of unprecedented new emergency regulations that propose extending the definition of "terrorism".
Those implicated under the new definition will be those broad swaths of citizens of western nations who don't agree with the operating beliefs of the ruling oligarchy.
Already a 60 day review of the U.S. military is underway 
to purge the armed forces
 of all such "thought criminals" while McCarthyite legislation 
has been drafted
 to cleanse all government jobs of "conspiracy theorists".
Another startling announcement from 
the National Terrorism Advisory Bulletin
 that domestic terrorists include: 
"ideologically-motivated violent extremists with objections to the exercise of governmental authority [and] perceived grievances fueled by false narratives."
While not yet fully codified into law (
though it will be
 if not nipped in the bud soon), you can be sure that things are certainly moving fast as, before our very eyes, the right to free speech is being torn to shreds by means of censorship across social media and the internet, cancelling all opinions deemed unacceptable to the ruling class.
The Conspiracy to Subvert Conspiracy Theorizing
This should not come as a surprise, as Biden's new addition to the Department of Homeland Security is a bizarre figure named Cass Sunstein who famously described exactly what this was going to look like in his infamous 2008 report 
'Conspiracy Theories'
 (co-authored with Harvard Law School's Adrien Vermeule).
In this under-appreciated study, the duo foresaw the greatest threat to the ruling elite took the form of "conspiracy theorizing" within the American population using as examples of this delusion: the idea that the government had anything to do with the murders of John F. Kennedy and Martin Luther King Jr, or the planning and execution of 9-11.....
https://www.zerohedge.com/political/how-...-terrorist
Politics

Harvard's Sunstein Joins Biden's DHS to Shape Immigration Rules

Former Obama administration official Cass Sunstein on Monday joined the Department of Homeland Security, where President Joe Biden is moving rapidly to roll back Donald Trump's immigration policy priorities.
Sunstein is a senior counselor who will be responsible for making sure that the rules put forward by the department and its agencies are based on evidence and consistent with the law, an administration official said.
Sunstein, a law professor at Harvard University, was administrator of President Barack Obama's Office of Information and Regulatory Affairs from 2009 to 2012. His work with Biden goes back three decades to when Biden was the top Democrat on the Senate Judiciary Commission and Sunstein weighed in on judicial nominations and constitutional interpretation.
Biden is unwinding Trump's zero-tolerance immigration policies that advocacy groups denounced as too restrictive, unfair and cruel. The president is also pushing for Congress to pass a comprehensive overhaul of the immigration system.
Progressives raised
concerns
last month about Sunstein's rumored plans to join the administration,
pointing
to what they
described
as a record of blocking and slowing regulations during his years in the Obama administration.....
https://www.bloomberg.com/news/articles/...tion-rules
The No Change Presidency
After a month as president Joe Biden has already broken several major campaign promises.
There will be:
No $2,000 checks.

No minimum wage rises.

No student debt forgiveness.

No halting of deportations.

No end of the war on Yemen.

No return to the JCPOA.

As Alan MacLeod
summarizes
:
Biden began his campaign for the Democratic presidential nomination in June 2019 at a Manhattan hotel,
telling
wealthy donors that "nothing would fundamentally change" under his presidency. After one month in office, it appears as if that is one campaign promise he is likely to keep.
The U.S. will also continue its wars on Afghanistan, Iraq and Syria.
We are left to guess where, not if, Biden will start another one.
>
https://www.moonofalabama.org/2021/02/th...dency.html
Vernünftige Politik oder stur Anti-Trump?
Vergeltungsschlag gegen Mullah-Milizen: Das große Dilemma des Joe Biden
Bevor Biden ins Amt kam, vereinigte er gegensätzliche Lager im Hass auf Trump. Doch sobald er mit den Konflikten der Welt konfrontiert wird, muss er entscheiden – und feststellen, dass manche Kritik an Trump einfach realitätsfern war. Mit jeder notwendigen Handlung entzweit er seine Unterstützer.
Wieder keine Antworten

Seit 43 Tagen ist JOE BIDEN im Amt und seit 43 Tagen hat er keine Reporterfragen beantwortet. In seinem Livestream hat er gestern angekündigt "I am happy to take questions..." und Sekunden später wurde der Stream abgeschaltet. Wieder keine Antworten.
Biden's "Nothing Will Fundamentally Change" Promise Extends To His Foreign Policy
"America is back" claimed Joe Biden to no ones amusement. But the world has changed after four years of Trump and after a pandemic upset the world. The U.S. position in this world and its role in it have thereby also changed. To just claim one is back without adopting to the new situation promises failure.
As candidate Joe Biden promised that there would be no changes.
Joe Biden to rich donors: "Nothing would fundamentally change" if he's elected
Former Vice President Joe Biden assured rich donors at a ritzy New York fundraiser that "nothing would fundamentally change" if he is elected.
Biden told donors at an event at the Carlyle Hotel in Manhattan on Tuesday evening that he would not "demonize" the rich and promised that "
no one's standard of living will change, nothing would fundamentally change
," Bloomberg News reported.
That Biden statement destroyed the illusion of those who had hoped that he would lift the standard of living for the average Amercian.
Biden stayed true to his words at the fundraiser. There will be no rise in the minimum wage. The $2,000 checks he promised to all voters will now be only $1,400 checks. They will also be
heavily means tested
. Those who made more than $80,000 in 2019 but lost their income in 2020 will get no check at all.
Even as they hold the White House and the House and Senate majorities the Democrats are unable or unwilling to deliver basic progress. This will likely cost them their House majority in 2022 and the presidency in 2024.
Biden's "nothing will fundamentally change" attitude extends into foreign policy.
Secretary Pompeo @SecPompeo -
0:29 UTC · Dec 21, 2019
Today, the #ICC prosecutor raised serious questions about the ICC's jurisdiction to investigate #Israel. Israel is not a state party to the ICC.
We firmly oppose this unjustified inquiry that unfairly targets Israel
. The path to lasting peace is through direct negotiations.
---
Secretary Antony Blinken @SecBlinken -
1:34 UTC · Mar 4, 2021
The United States firmly opposes an @IntlCrimCourt investigation into the Palestinian Situation. We will continue to uphold our strong commitment to Israel and its security, including
by opposing actions that seek to target Israel unfairly.
With that, and with its lack of punishment for the Saudi clown prince, the Biden administration
has blinked on human rights
which it had
emphasized in earlier statements
.
That nothing will change is also expressed in two policy papers the Biden administration released yesterday. The early emphasis on human rights, which distinguished it from the Trump administration, is already gone.
The common theme is now 'democracy' as if that were not just a form of government but a value in itself.
The White House published an
Interim National Security Strategic Guidance
(pdf). The paper is dripping with ideological LGBTQWERTY librulism. Its central claim is that 'democracy' is under threat:
Cont. reading:

Biden's "Nothing Will Fundamentally Change" Promise Extends To His Foreign Policy
(Man spürt richtig dass Trump nicht mehr da ist)
Psaki says Biden is too busy with COVID crisis to hold press briefing
The White House has continued to deflect and brush off questions about Joe Biden's failure to hold a formal press conference. When pressed on the issue Friday, White House press secretary Jen Psaki said Biden is too busy with the COVID crisis, but it may happen by the end of March.
Tune in for a briefing with
@PressSec
Jen Psaki.
https://t.co/8PUUfvFJHF
— The White House (@WhiteHouse)
March 5, 2021
This came as Biden made history this week, becoming the first president in 100 years to not hold a solo press briefing in his first 45 days in office.
White House reporters voiced their frustration over their lack of access to the president on Friday, but the press secretary continued to give vague answers and make excuses for Biden.
"But this president came in during a historic crisis, two historic crises," Psaki stated. "A pandemic like the country had not seen in decades and decades, and an economic downturn that left 10 million people out of work.".....
>
https://www.oann.com/psaki-says-biden-is...-briefing/
(Biden lallt ja doch nur rum......geschenkt!)
Benutzer, die gerade dieses Thema anschauen: 1 Gast/Gäste