---
Afghanistan 2021 - Huxley - 07.07.2021

Afghanistan - U.S. Sneaks Out At Night - Taliban Take Multiple Districts Per Day
This is awkward:
The U.S. left Afghanistan's Bagram Airfield after nearly 20 years by shutting off the electricity and slipping away in the night without notifying the base's new Afghan commander, who discovered the Americans' departure more than two hours after they left, Afghan military officials said.
...
"We (heard) some rumor that the Americans had left Bagram ... and finally by seven o'clock in the morning, we understood that it was confirmed that they had already left Bagram," Gen. Mir Asadullah Kohistani, Bagram's new commander said.
...
Before the Afghan army could take control of the airfield about an hour's drive from the Afghan capital Kabul, it was invaded by a small army of looters, who ransacked barrack after barrack and rummaged through giant storage tents before being evicted, according to Afghan military officials.
"At first we thought maybe they were Taliban," said Abdul Raouf, a soldier of 10 years. He said the the U.S. called from the Kabul airport and said "we are here at the airport in Kabul."
There is video from the empty base. Hundreds of cars were left behind. The network equipment in the headquarter was ripped out but the base hospital seems to have been left intact. There are even some useful medical supplies stocked there.
Meanwhile the Taliban continue their blitz operation to take over the country. They snatch up district after district especially in the north.
(....)
I had noticed that two weeks ago:
Remarkably a lot of the districts the Taliban took were not in primarily Pashtun regions but in the north where the population is often Uzbek, Tajik or from other ethnic minorities. Before the U.S. invasion those populations were often anti-Taliban.
The Taliban have probably some 3-4,000 fighters in the north-eastern Badakhshan province but they managed to take 90% of it in just 4 days, 14 of its districts fell in the last 48 hours. Some 1,500 Afghan government soldiers stationed there have fled to Tajikistan. The province capital Faizabad is now isolated and the only place that is still under government control.
Cont. reading:

Afghanistan - U.S. Sneaks Out At Night - Taliban Take Multiple Districts Per Day




---
RE: Afghanistan 2021 - Huxley - 15.08.2021

"A City In Shock": Taliban Enter Kabul As US Starts Evacuating Embassy, China Mocks Biden Over "Complete Defeat"
"I never expected that Taliban will come again. Now everything is going to collapse."


---
RE: Afghanistan 2021 - Huxley - 15.08.2021



Afghanistan: Präsident tritt laut Berichten zurück


15 Aug. 2021
Der afghanischen Präsident Aschraf Ghani ist vor dem Hintergrund des Vormarsches der Taliban auf die Hauptstadt Kabul laut Berichten zurückgetreten. Ein hochrangiger Taliban-Vertreter soll eine Übergangsregierung leiten. Washington habe dieser Lösung zugestimmt.

> https://de.rt.com/asien/122451-afghanistan-prasident-tritt-zuruck/


---
RE: Afghanistan 2021 - Huxley - 15.08.2021

Former CIA Officer: "The Most Infamous & Devastating Press Conference Ever Held By An American President"
Reporter:  

Is a Taliban takeover of Afghanistan now inevitable?



The President:  

No, it is not.




---
RE: Afghanistan 2021 - Huxley - 15.08.2021

Taliban's Mullah Baradar to be Afghanistan's new President as Ashraf Ghani resigns
In a breaking development, Afghanistan President Ashraf Ghani will tender his resignation as the government surrendered to the Taliban forces in Kabul on Sunday. According to sources, Taliban negotiators have moved to the Afghan presidential palace to prepare for a 'transfer' of power. Following talks between the Afghan government and Taliban negotiators, an interim government led by the Taliban has been announced. The new Afghanistan government will be reportedly led by top Taliban leader Mullah Abdul Ghani Baradar. As per sources, Mullah Baradar has entered the presidential palace with the help of Qatar, which has been helping the Taliban and Afghan govt negotiate, and with the green light of the US.


---
RE: Afghanistan 2021 - John Thomas - 15.08.2021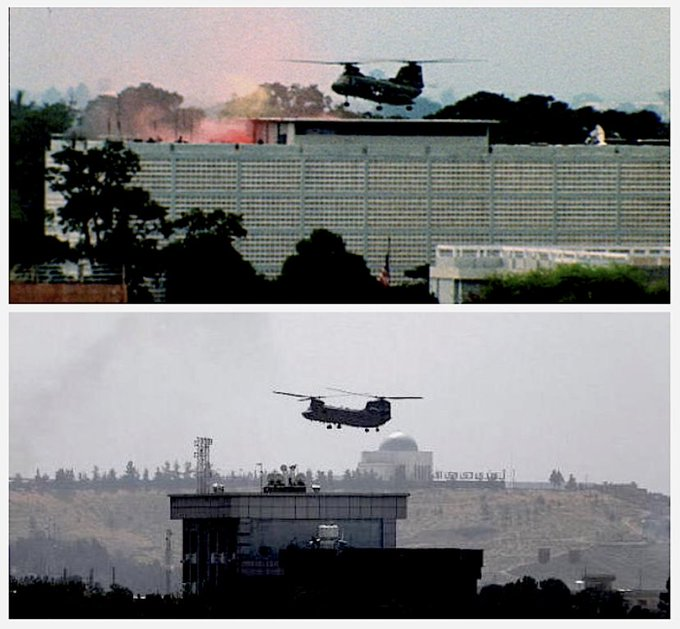 Déjà-vu: 1975/2021

---



Taliban enter Afghan capital as US diplomats evacuate by chopper




Taliban enter Kabul from all sides - interior ministry official

U.S. diplomats evacuated by chopper

President's office says firing heard but situation under control

Eastern city of Jalalabad falls without a fight

https://www.reuters.com/world/asia-pacific/us-troops-arrive-afghan-capital-assist-evacuations-2021-08-14/


Afghanistan: Präsident Ghani flieht vor Taliban aus dem Land - Deutsche Botschaft evakuiert


Die Taliban verhandeln mit der afghanischen Regierung eine "friedliche Machtübergabe". Die deutsche Botschaft in Kabul wurde evakuiert, Präsident Ghani flieht aus dem Land.

Der Konflikt in Afghanistan weitet sich aus.

Die radikal-islamischen Taliban verhandeln die Machtübergabe mit der Regierung.

Präsident Aschraf Ghani soll das Land verlassen haben.

https://www.fr.de/politik/afghanistan-taliban-kabul-news-vormarsch-terror-scharia-militaer-live-90920940.html
---
RE: Afghanistan 2021 - Huxley - 15.08.2021



Afghanistan - Taliban Enter Kabul - Will Announce Interim Government



All cities are now in Taliban hands as are all border crossings. President Ashraf Ghani has resigned.

Fixing Failed States: A Framework for Rebuilding a Fractured World Paperback – 6 Oct. 2009
English edition by Ashraf Ghani
bigger
A new interim government will be announced as soon as Mullah Abdul Ghani Baradar arrives in Kabul. The U.S. is frantically evacuating its embassy.


---

Remarks by President Biden on the drawdown of U.S.forces in Afghanistan - July 6, 2021
Q Is a Taliban takeover of Afghanistan now inevitable?
THE PRESIDENT: No, it is not.
Q Why?
THE PRESIDENT: Because you — the Afghan troops have 300,000 well-equipped — as well-equipped as any army in the world — and an air force against something like 75,000 Taliban. It is not inevitable.
...
Q Mr. President, will you amplify that question, please? Will you amplify your answer, please — why you don't trust the Taliban?
THE PRESIDENT: It's a — it's a silly question. Do I trust the Taliban? No. But I trust the capacity of the Afghan military, who is better trained, better equipped, and more re- — more competent in terms of conducting war.
...
Q Mr. President, some Vietnamese veterans see echoes of their experience in this withdrawal in Afghanistan. Do you see any parallels between this withdrawal and what happened in Vietnam, with some people feeling —
THE PRESIDENT: None whatsoever. Zero. What you had is — you had entire brigades breaking through the gates of our embassy — six, if I'm not mistaken.
The Taliban is not the south — the North Vietnamese army. They're not — they're not remotely comparable in terms of capability. There's going to be no circumstance where you see people being lifted off the roof of a embassy in the — of the United States from Afghanistan. It is not at all comparable.
It is not at all comparable. This is a totally different ... type of helicopter.
Taliban enters Kabul, awaits 'peaceful transfer' of power - August 15, 2021

Cont. reading:

Afghanistan - Taliban Enter Kabul - Will Announce Interim Government




---
RE: Afghanistan 2021 - Huxley - 15.08.2021



Die Experten der Staatsmedien wissen über die Finanzierung genau Bescheid



Experte wird gefragt:
Werden die Taliban in Kürze auch die Hauptstadt Kabul erobern – oder wird die Armee sie in Schach halten können?
Expertenantwort vom 10. (!) August 2021
Ich denke aber, dass die grössten und wichtigsten Städte – darunter auch Kabul – vorerst wohl noch unter Kontrolle der Regierung bleiben werden.
Nun der Experte zur Finanzierung der Taliban, auch da wissen die Staatsmedien genau Bescheid, dank der Experten und dank unermüdlichen investigativen Recherchierens:
«Die Taliban sind nicht auf Gelder aus dem Ausland angewiesen»
Warum ist das so?
Florian Weigand: Die Taliban haben in den letzten zehn Jahren relativ weitreichende, staatsähnliche Strukturen aufgebaut. Dazu gehört auch ein Steuersystem in den von ihnen eroberten Gebieten. Güter und wirtschaftliche Tätigkeiten fallen unter die Steuerpflicht und die Taliban nehmen so erhebliche finanzielle Mittel ein.

Der Taliban-Steuereintreiber holt sich also bei den bitterarmen Kleinbauern, Klein-Handwerkern und Marktfrauen die "erheblichen Mittel".
Zählt also die Schafe durch und nimmt jedes zehnte Schaf mit? Oder haben die Steuerzahler gar Geld? Wenn, dann höchstens das inflationierende Micky-Maus Geld der bekämpften Zentralregierung, das im Ausland, dort wo die Waffen hergestellt werden, nicht mal die Kaufkraft einer Klopapier-Rolle hat.
Es ist dermaßen doof, man hält es nicht aus. Oder gezielte Desinfo für uns.
hier die Quelle
https://www.srf.ch/news/international/krieg-in-afghanistan-die-taliban-sind-nicht-auf-g...

(Gelbes Forum)


---
RE: Afghanistan 2021 - Huxley - 15.08.2021

Schleier über Kabul Handstreich der Taliban: Den Westen wie eine lästige Fliege einfach weggefegt
15. August 2021 
Kabul fällt viel schneller als selbst pessimistische Experten dachten. Und mit dieser hermetisch abgeschirmten westlichen Enklave fällt auch der Vorhang für viele Afghanen, die hofften, dem Terror der Taliban zu entkommen: Kabul Killing Fields. Von Alexander Wallasch.
WEITERLESEN


---
RE: Afghanistan 2021 - John Thomas - 15.08.2021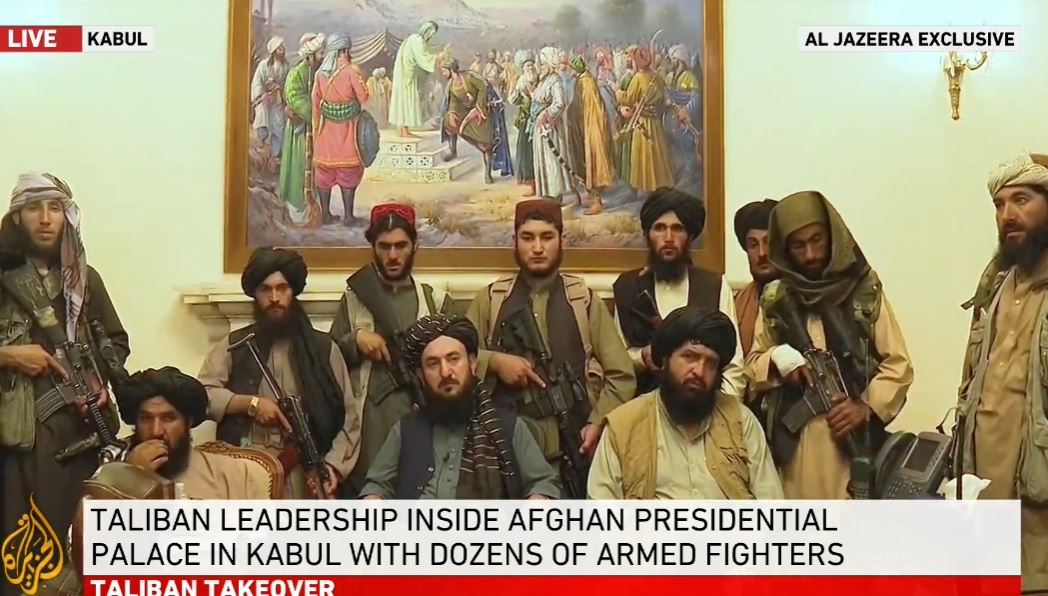 https://www.aljazeera.com/news/2021/8/15/taliban-continues-advances-captures-key-city-of-jalalabad
---