---
Dallas-Shooting, Polizeigewalt, Rassenkrieg?, Unruhen - Huxley - 08.07.2016

Erstmal Minnesota und Lousiana:

Was war passiert (aus der Zeit):

Obama fordert Polizeireform nach Schüssen auf Schwarze

US-Präsident Barack Obama hat auf Reformen gedrängt, nachdem Polizisten erneut zwei Afroamerikaner erschossen haben. Das Thema gehe alle US-Amerikaner an.

"Das ist nicht nur ein Thema der Schwarzen", sagte Obama unmittelbar nach seiner Landung in Warschau, wo er in der Nacht zum Freitag zum Nato-Gipfel eintraf. "Das ist ein amerikanisches Thema, um das wir alle uns kümmern sollten." Die USA hätten "Tragödien wie diese zu oft" erlebt.

Innerhalb von 48 Stunden waren in den Bundesstaaten Minnesota und Louisiana zwei Afroamerikaner durch Polizeischüsse getötet worden. Am Mittwoch wurde der 32-jährige Philando Castile während einer Polizeikontrolle im Bundesstaat Minnesota erschossen. Seine Freundin nahm die schockierenden Momente mit dem Handy auf. Im Staat Louisiana wurde der 37-jährige Alton Sterling von der Polizei durch Schüsse in die Brust getötet.

http://www.zeit.de/gesellschaft/zeitgeschehen/2016-07/usa-polizei-gewalt-afroamerikaner-tod-buergerrechte

---
Die Antwort darauf?:

Attentate auf Polizei
Fünf Polizisten bei Protesten in Dallas erschossen
Während einer Kundgebung gegen Polizeigewalt sind in Dallas fünf Polizisten erschossen worden. Ein Verdächtiger wurde offenbar festgenommen, ein anderer soll sich noch immer in einem Parkhaus verschanzt haben.

---
ganz grob wissen wir jetzt worum es geht

Was sind die Hintergründe ?

einige Blogs dazu:

willyloman/american everyman:

Falcon Heights Shooting Video – Was this staged? (yeah, it was)
Posted on July 7, 2016 by willyloman
by Scott Creighton


UPDATE:

Check out Greencrow's article "Was Minnesota Police Shooting Staged to distract from THIS?!"
—
There has been another shooting involving police and a suspect who was carrying a firearm but not brandishing it. This one took place last night in Falcon Heights, Minnesota. The day before, Alton Sterling was shot by officers in Baton Rouge, La. under similar circumstances.
Now keep this in mind: both of these guys were carrying weapons, I believe legally in both cases but I'm not sure. I have to wonder if someone in congress wont be using these latest incidents to say "see? we gotta keep guns off the streets because it makes it harder for cops to do their jobs and citizens are being killed needlessly"
I've watched this video several times and I have too say, it seems like it might have been staged. Might. You take a look and let me know what you think.
Well no wait… it is staged.

Watch the first few minutes of this video, when she is in the car with the dying victim and her kid is in the back seat.
What stands out to you? Her calm demeanor? The kid not crying? No smoke in the vehicle from 4 shots being fired at point blank range in the driver's side window? The fact that the blood pattern on his shirt doesn't change while he's clearly still breathing and his heart is still pumping? No visible wounds on the guy? No powder burns on his clean white shirt? The fact that her ears aren't ringing and she never checks on the welfare of her young child sitting 4 feet away from where the cop fired the gun?
Those are all interesting clues but they aren't the dead giveaway.
Continue reading →

Greencrow:

Was Minnesota Police Shooting Staged to distract from THIS?!

FBI Director James Comey is testifying
LIVE before the Senate today



You really have to watch what`s going on very closely....and be very cynical...in order to correctly analyse the geopolitical trends. Last night I watched the `live stream`video of the Minnesota police shooting of a man stopped in his car for having a broken tail light. The man was then shot by a policeman while reaching for his driver`s license...after having told the policeman that he had a license to carry a concealed gun.  




It was all very shocking and the girlfriend captured it all on her cell phone and it went viral...and is still the main headline in all the JM$M today. Now bear with me...I do have a point here... This morning I read Scott Creighton`s analysis in

American Everyman

of the video and he says it likely was staged...as a distraction from the Senate Hearings of the above

FBI director, former bankster money launderer James Comey

, who just let Hillary skate away from indictment in the e-mailgate scandal.


Thinking back to the video...I did see a lot of anomalies in it...mainly the girlfriend`s calm demeanor...and her lack of empathy for her boyfriend who was dying beside her. Lack of blood and seriousness of the arm injuries on the boyfriend (girlfriend says on video that his arm has been "blown off") also made me wonder.

Now I`m thinking along with Scott that this is yet another false flag...to distract and also to heap more coals on the fire the globalists have been burning to get rid of guns in Amerika. Additionally, there are

a lot more real events going on that need to be kept below the radar.

 The USrael proxies in Syria are getting their @$$es whupped and the Syrian army has ``rebels`` (aka foreign mercenaries) surrounded (remember the `cauldrons`of eastern Ukraine) and the only supply line to the rebels has been cut.  The US has apparently just moved its jets out of Syria to Iraq.

But

nowhere in the JM$M is it being reported....with the exception of RT...that Comey is appearing and testifying live before the US Senate.

 This is a dead givaway.  Keep your eyes on the bouncing ball, folks.  There is a lot going on and much of it distraction. Just checking the headlines again....I see that there is talk that Hillary is ineligible to be president because

she won`t be able to get security clearances anymore.  SHOCK!


https://greencrowasthecrowflies.blogspot.de/2016/07/was-minnesota-police-shooting-staged-to.html

---
Dallas shooting:

Zerohedge:

Black Power Political Organization Takes Responsibilty For Murdering 5 Dallas Cops

"Sniper Assassins Take Down Five Police Officers! And

More Will Be Assassinated

In The Coming Days!

Do You Like The Work Of Our Assassins?

"

willyloman:

Dallas Sniper Attack: Does Anyone Remember June 12, 2015?

by Scott Creighton


UPDATE:

Please also see Dallas Texas – Home of the Never Ending Psyops written June 13th, 2015. Apparently there is an entire cottage industry in Dallas centered on destabilization events.
—
With all the reporting on what happened last night in Dallas, I have yet to read or hear anyone make a comparison to what happened in Dallas on June 12th of 2015.
Here's what we know about last night (list from CNN):
A total of 10 police officers were shot by snipers during the protests, Dallas Police Chief David Brown said. An 11th officer was shot during an exchange of gunfire with a suspect, authorities said.

Police Chief David Brown said it's unclear how many suspects were involved, but three people are in custody.

Dallas police negotiated and exchanged gunfire with a suspect for hours at a parking garage in downtown. That suspect is dead, a law enforcement official told CNN. The official did not say how the suspect died.

"The suspect told our negotiators that the end is coming," Brown said. The suspect at the garage also told negotiators more officers are going to get hurt, and that bombs are planted all over downtown Dallas.

"This was an attack planned long before — waiting for an opportunity to go," Moore said. "I think there was so much logistically, ammunition-wise. They may not have planned the location, they may not have planned the vantage point. But they had prepared for an attack before last night's shooting is my guess."

Two of the shooters were snipers, who fired "ambush-style" from an "elevated position," Brown said.

Last night I was watching MSNBC's live coverage of this event and they had someone named Van Zant on as some kind of "expert" and he said something that struck me: he said that it reminds him off all those "terrorist" sniper attacks at protests in Latin America over the past couple of decades and that he was sad too see it now happening here on U.S. streets.
What he failed to mention was the fact that 99.9% of those sniper attacks were carried out by various regime change mercenaries working for the CIA on their irregular warfare campaigns.
Of course, you don't have to go back even that far in history to see this kind of tactic being employed. If you recall, at the height of the regime change op in Ukraine, there was a similar sniper attack whose perpetrators have never been fully identified by the new regime that took over in it's aftermath.
"I can say only one thing:

the key factor in this uprising, that spilled blood in Kiev and that turned the country upside down and shocked it, was a third force

," Avakov was quoted as saying by Interfax. "

And this force was not Ukrainian

."
Forensic evidence, in particular the similarity of the bullet wounds, led him and others to conclude that snipers were targeting both sides of the standoff at Maidan —

and that the shootings were intended to generate a wave of revulsion so strong that it would topple Yanukovych

and also justify a Russian invasion. AP
Now that said, let's take a look back at the events of June 12, 2015.
Continue reading →

schmeckt und riecht etwas nach Maidan

---
In Dallas hieß es, der eine Heckenschütze habe sich in einem Parkhaus verschanzt. Dann hieß es, der habe Selbstmord begangen. Und jetzt heißt es, die Polizei habe ihn mit einer an einem Bomben-Entschärf-Roboter befestigten Bombe getötet.
Das finde ich ja mal ECHT krass. Bei einem Schuss kann man noch argumentieren, es sei Notwehr gewesen. Aber eine Bombe an einen Roboter kleben, damit in aller Ruhe (die bewegen sich eher gemächlich, solche Roboter) auf den Typen zufahren und dann den Kaboom-Knopf drücken?! Das finde ich keine Situation, in der man sich mit Notwehr verteidigen kann.
Na mal gucken, ob das überhaupt vor Gericht kommt, und was die Justiz dann entscheidet.
Man stelle sich mal vor, was das für ein Fluttor öffnet, wenn die damit durchkommen! Als nächstes nimmt die Polizei dann kleine Flugdrohnen, nicht so ein klotziges Gerät.

(fefe)


---
RE: Dallas-Shooting, Polizeigewalt und der Beginn eines Rassenkrieges? - Huxley - 08.07.2016

Distraction - Ablenkung, ist ja schön und gut, aber von was will man ablenken?

von Hyena Clintons E-Mail- Affäre oder vom NATO-Gipfel in Warschau?( wird auch wieder schon ,was da in Richtung Eskalation und Provokation in Richtung der üblichen Verdächtigen beschlossen wird)

---
Propagandaschau (Kommentar):

Guter Artikel, der den Bogen von Polizeigewalt im eigenen Land und Drohnenkrieg in der Welt spannt (man ersetze USA durch Russland und stelle sich vor, was unsere Transatlantiker mit vor Hass sabberndem Maul dazu absondern würden):
Of Lethal Drones and Police Shootings
There are chilling parallels between President Obama's overseas drone program and how police treat America's non-white citizens, with the slightest suspicion escalating into official violence and even death, writes Kathy Kelly.
…
We must swear off making the world our battlefield and be appalled to hear the U.S. government seem to tell the world "I will kill you if you f—ing move."
https://consortiumnews.com/2016/07/07/of-lethal-drones-and-police-shootings/

wird nicht mehr lange dauern, bis die ersten bewaffneten Dronen und Roboter verstärkt im Inland eingesetzt werden (dürfen)
Killary wirds schon richten

chilling development!

---
zu den Paralellen Maidan:

In February 2014 paramilitary snipers (later identified as Gladio operatives) opened fire on protestors and police forces in Ukraine, escalating the crisis and putting the final nail in the coffin of Yanukovych's rule. In March 2011 the "spontaneous democratic protest" in Daraa led to carnage as trained snipers killed seven policemen and four protesters, escalating the crisis and launching the five-year long devestation of Syria. In July 2016 unidentified snipers opened fire at an otherwise peaceful protest in Dallas, potentially sparking America's next civil war. Do you see a pattern?
https://www.corbettreport.com/dallas-ambush-follows-pattern-of-provocateured-false-flags/comment-page-1/#comment-31053


---
dazu noch einige Links:

Shots Fired at Dallas (reddit thread with videos and links)
Ukraine crisis: bugged call reveals conspiracy theory about Kiev snipers
Ukraine: Secretive Neo-Nazi Military Organization Involved in Euromaidan Sniper Shootings
Study Proves Maidan Snipers Were Western-Backed Opposition's False Flag
Who Was Behind The 2011 "Protest Movement" in Syria?
2016: Community or Civil War?

---
12 police officers shot/injured, 5 officers dead, 2 civilian shot




ambushed, shot [by sniper] from elevated positions (parking garage)




3 suspects arrested




1 suspect in standoff 'neutralized' by bomb squad robot



Micah Xavier Johnson (25) is the [dead] suspect

No known criminal history or ties to terror groups

Says he Acted alone, wanted to kill more cops


Army says Micah Xavier Johnson, named as Dallas shooting suspect, had served as enlisted soldier; served tour in Afghanistan



Shots fired at Dallas protests

(Reddit)

---
The Dallas Tragedy Is the Distraction That Clinton Needed

(DAVE HODGES)  The Common Sense Show and its related personnel stand horrified at the tragic events in Dallas as at least five police officers have been assassinated by at least two snipers. Our deepest sympathies and hart-felt prayers go out to the victims and their families. We further pray in the name of Jesus that the wounded experience full recoveries.

This tragedy begins with the following video where President Obama addresses the nation regarding the Dallas tragedy. Every American needs to take the brief time necessary to view his short speech as Obama, once again, disgraces his office with his warped and petty politics in this time of tragedy.
(....)
The Hillary Clinton Factor
Whether we can prove complicity or not, Clinton, by conspiracy, or by coincidence, benefits the most from this tragedy. Perhaps this is just one big coincidence, regardless, nobody benefited more than Hillary Clinton from the tragic events in Dallas.  For the next couple of days, Clinton's criminality will off of the front page.
After scathing attacks upon Comey for exonerating Clinton for crimes for which she should have been charged, Congress has become involved. The American people are not letting go. One poll I read said that 93% of Americans surveyed thought Clinton should have been charged. Additionally, Clinton is being looked at for lying under oath to the FBI. If anyone ever needed a distraction, it was Hillary Clinton. So, Mr. President, while you want to infer that the racial disparities are responsible for the the Dallas tragedy, let me encourage your FBI, under the stellar leadership of James Comey, to look in another direction. At the top of any knowledgeable person's suspect list should be George Soros and his thugs.
While I will continue to pray for the victims and their families, I say let the investigation begin.
http://www.govtslaves.info/the-dallas-tragedy-is-the-distraction-that-clinton-needed/

---
Dallas Massacre A False Flag Event: Taking Hillary Out of The News Cycle

I'm sorry I'm not a conspiracy theory specialist. But after two days of extraordinary testimony from the hapless James Comey, the Dallas cop shooting last night looks like a made to order distraction. The shooter was apparently a sniper. Thugs typically aren't trained snipers.

And also notice how the media cycle is proportionately out of whack. Hillary was finally getting some negative coverage in the mainstream media. But the Black Lives Matter protests were getting almost the same coverage. Now a retaliatory shooting. It just seems all too coincidental.


---
RE: Dallas-Shooting, Polizeigewalt und der Beginn eines Rassenkrieges? - Test2 - 08.07.2016

Den Ex-Soldaten haben sie dann wohl mal spektakulär mit einem Roboter erledigt.

Police Used Bomb Disposal Robot To Kill A Dallas Shooting Suspect




Quelle: https://blog.fefe.de/?ts=a9810571


Sorry Haifisch, habe übersehen, das Du das schon verlinkt hattest


---
RE: Dallas-Shooting, Polizeigewalt und der Beginn eines Rassenkrieges? - Huxley - 08.07.2016



Sorry, aber ich schmeisse Lousiana, Minnesota und Dallas zusammen)




sputnik: Augenzeugen-Video 18+: US-Polizisten erschießen Schwarzen direkt in die Brust

In den USA ist am Dienstag erneut ein Schwarzer von Polizeibeamten erschossen worden. Ein Augenzeuge hat das schockierende Vorgehen der beiden Polizisten in Baton Rouge im US-Bundesstaat Louisiana mit seinem Smartphone gefilmt.

---
'He wanted to kill white people, especially white officers': Police kill sniper after twelve cops were shot - and FIVE killed - during furious nationwide protests over U.S. police shootings of two black men that ended in a four hour stand-off

This one is starting to stink already!

Authorities have identified the shooter as Micah Xavier Johnson, a 25-year-old from Texas with no criminal history or ties to terror groups. He allegedly claimed to have acted alone, countering previous reports that as many as four gunmen were involved in the massacre. Three other suspects were taken into custody at the scene Thursday night, but Chief Brown refused to go into detail about these arrests. However, he said that his department is still not certain that everyone involved in the attack.

und wie schnell Clinton und Comey aus den Medien verschwunden sind!!!!!


---
RE: Dallas-Shooting, Polizeigewalt und der Beginn eines Rassenkrieges? - Test2 - 08.07.2016

Will da drüben eigentlich jemand einen Bürgerkrieg anzetteln ?


---
RE: Dallas-Shooting, Polizeigewalt und der Beginn eines Rassenkrieges? - Huxley - 08.07.2016

"F**k Yes!" BLM Supporters Celebrate Murder of Dallas Cops on Twitter

Just this morning Obama said, "I believe I speak for every single American when I say we are horrified over these events, and we stand united with the people and the police department in Dallas."

He's wrong, his own constituents support the murder of these cops in Dallas and say they don't "give a f*ck" about them.

They say they want even more to be killed and say this attack is revenge against "whites" for thinking "their [sic] superior than us!"
http://www.informationliberation.com/?id=55143

wenn da nicht mal jetzt der Deckel vom Topf fliegt

hat schon jemand "Gun Control" gerufen?

Black Live Matters, wiki:



Black Lives Matter

(

BLM

) ist eine internationale Aktivisten-Bewegung, die aus der afroamerikanischen Gemeinschaft in den USA entstanden ist und sich gegen Gewalt gegen Schwarze einsetzt. BLM organisiert regelmäßig Proteste gegen die Tötung Schwarzer durch Gesetzeshüter und breitere Probleme wie Racial Profiling, Polizeigewalt und Rassenungleichheit.
Die Bewegung begann 2013 mit der Benutzung des Hashtags

#BlackLivesMatter

in den Sozialen Medien nach dem Freispruch von George Zimmerman nach dem Todesfall des afroamerikanischen Teenagers Trayvon Martin. Black Lives Matter erlangte nationale Bekanntheit durch Demonstrationen folgend auf die Todesfälle zweier Afroamerikaner 2014: Michael Brown, nach dessen Tod es zu Unruhen in Ferguson, Missouri, kam, und Eric Garner in New York City.[1][2]
Seit den Protesten in Ferguson haben Teilnehmer der Bewegung gegen die Todesfälle mehrerer anderer Afroamerikaner durch Polizeiaktionen or in Polizeigewahrsam demonstriert, unter anderem Tamir Rice, Eric Harris, Walter Scott, Jonathan Ferrell, Sandra Bland, Samuel DuBose und Freddie Gray. Im Sommer 2015 begann Black Lives Matter öffentlich Politiker herauszufordern – unter anderem Politiker in der Präsidentschaftswahl in den Vereinigten Staaten 2016 – ihre Haltung zu BLM-Angelegenheiten darzulegen. Allgemein ist die Black-Lives-Matter-Bewegung ein dezentralisiertes Netzwerk und hat keine formale Hierarchie oder Struktur.[3]
Im Sommer 2013, nach George Zimmermans Freispruch für die Tötung von Trayvon Martin, begann die Bewegung mit dem Hashtag #BlackLivesMatter.[4] Die Bewegung wurde durch drei Aktivisten der schwarzen Gemeinschaft mitbegründet: Alicia Garza, Patrisse Cullors und Opal Tometi.[5][6] BLM ließ sich von der US-amerikanische Bürgerrechtsbewegung der Afroamerikaner inspirieren, sowie von der Black-Power-Bewegung, der Black-Feminism-Bewegung der 1980er, Panafrikanismus, der Anti-Apartheid-Bewegung, Hip-Hop, der Lesben- und Schwulenbewegung und Occupy Wall Street.[7]
Garza, Cullors und Tometi trafen sich durch "Black Organizing for Leadership & Dignity" (BOLD), eine nationale Organisation, die Community Organizers ausbildet.[7] Sie begannen zu hinterfragen, wie auf die Entwertung der Leben Schwarzer durch den Freispruch Zimmermans zu reagieren sei.[7] Garza schrieb einen Facebook-Post mit dem Titel "A Love Note to Black People" in dem sie schrieb: "Our Lives Matter, Black Lives Matter."[7] Cullors antwortete: "#BlackLivesMatter". Tometi verstärkte die Bewegung durch ihre Unterstützung und die Online-Kampagne Black Lives Matter war geboren.[7]
Im August 2014 organisierten BLM-Mitglieder ihren ersten nationalen Protest in der Form einer "Black Lives Matter Freedom Ride" nach Ferguson, Missouri, nach dem Todesfall von Michael Brown.[7] Mehr als fünfhundert Mitglieder reisten nach Ferguson um an friedlichen Demonstrationen teilzunehmen.[7] Von den vielen Gruppen, die nach Ferguson gekommen waren, entwickelte sich Black Lives Matter als eine der bestorganisierten und sichtbarsten Gruppen und gewann nationale Anerkennung als symbolisch für die entstehende Bewegung.[7] Seit August 2014 hat Black Lives Matter mehr als eintausend Demonstrationen organisiert.[7] An Black Friday im November veranstaltete Black Lives Matter Demonstrationen in Geschäften und Einkaufszentren quer durch die Vereinigten Staaten von Amerika.[7]
Nach dem Tod von Freddie Gray in Baltimore 2015 entwickelten schwarze Aktivisten rund um die Welt Reformversuche nach dem Modell von Black Lives Matter und dem Arabischen Frühling.[7] Diese internationale Bewegung wurde auch schon "Black Spring" genannt.[8][9] Es wurden auch Verbindungen zu anderen, parallelen internationalen Bewegungen wie die Bemühungen um die Emanzipation der Dalit geschaffen.[10] Durch Aktivismus an US-amerikanischen Universitäten, zum Beispiel den Protesten an der University of Missouri in 2015, entwickelt sich BLM über Strassenproteste hinaus und gewinnt an Wichtigkeit.[11]
Zur Zeit gibt es mindestens 23 Black Lives Matter Ortsverbände in den USA, Kanada und Ghana.[12] Weitere Black Lives Matter Vorsitzende sind: DeRay Mckesson, Shaun King, Marissa Johnson, Nekima Levy-Pounds, Johnetta Elzie.

weiterlesen: https://de.wikipedia.org/wiki/Black_Lives_Matter


---
RE: Dallas-Shooting, Polizeigewalt und der Beginn eines Rassenkrieges? - Test2 - 08.07.2016


(08.07.2016, 20:20)

Haifisch schrieb: "F**k Yes!" BLM Supporters Celebrate Murder of Dallas Cops on Twitter
...

Laut SPON sollen da

Zitat:Micah J. ist offenbar einer von mehreren Heckenschützen, die während einer Protestaktion gegen Polizeigewalt fünf Beamte erschossen. Mindestens sieben Polizisten und zwei Zivilisten seien verletzt worden, teilten die Behörden der texanischen Großstadt mit. Drei Menschen seien später festgenommen worden, darunter eine Frau. "Wir sind aber noch nicht vollständig sicher, dass wir alle Verdächtigen in Gewahrsam haben", sagte der Polizeichef von Dallas, David Brown.

mehrere beteiligt gewesen sein

Tödliche Schüsse auf Polizisten: Schütze von Dallas war Soldat in Afghanistan


---
RE: Dallas-Shooting, Polizeigewalt und der Beginn eines Rassenkrieges? - Huxley - 08.07.2016


(08.07.2016, 20:27)

ralf schrieb: Laut SPON sollen da


Zitat:Micah J. ist offenbar einer von mehreren Heckenschützen, die während einer Protestaktion gegen Polizeigewalt fünf Beamte erschossen. Mindestens sieben Polizisten und zwei Zivilisten seien verletzt worden, teilten die Behörden der texanischen Großstadt mit. Drei Menschen seien später festgenommen worden, darunter eine Frau. "Wir sind aber noch nicht vollständig sicher, dass wir alle Verdächtigen in Gewahrsam haben", sagte der Polizeichef von Dallas, David Brown.


mehrere beteiligt gewesen sein

Tödliche Schüsse auf Polizisten: Schütze von Dallas war Soldat in Afghanistan

Dallas Sniper Attack: Story Morphing, Multiple Snipers Becoming One Dead "Lone Gunman" Carpenter (patsy?) Micah Johnson

by Scott Creighton
Holy shit. I made a joke this morning about the cops turning lose the three suspects they arrested last night in connection with the multiple sniper event down in Dallas. Ain't so funny now, is it?
An Army veteran "upset about Black Lives Matter" and "recent police shootings" who opened fire Thursday night in Dallas in an attack on police officers has been identified as Micah Xavier Johnson, the Los Angeles Times and CBS News report. Heavy
Micah X. Johnson has been identified as the individual the Dallas PD was in a standoff with in that parking garage all night. Reports were that he took his own life late last night but the "official" word now is that they used a robot with a bomb attached to it to blow him up early this morning.


The suspect did not shoot himself, despite reports

, Brown said. Heavy
Mr Brown said the suspect had been killed when police used explosives placed by a robot to end a tense stand-off in a building where he was holed up. Before that he had spoken to a negotiator. BBC
Johnson was an Army reservist who, according to Dallas police, wanted to kill white people in uniforms because of the two recent staged shooting events in La. and Minnesota. His Facebook page is decked out like it was made by a collection of "let's start the color revolution" CIA interns. Not a single cliched race-baiting reference is missing.

The disinfo trolls are probably running around all over the internet right now like Cartman from South Park yelling "RACE WAR! RACE WAR!!!!"


"The suspect said he was upset with white people and wanted to kill white people, especially white officers," Brown said. Heavy
Continue reading →

5.4.3.2.1......radikalisierter Einzeltäter!

---
Dallas: Umfunktionierter Bombenroboter zur gezielten Tötung eines Verdächtigen

In Dallas wurde wohl erstmals ein ferngesteuerter Roboter zum Platzieren einer Bombe eingesetzt, um einen Täter auszuschalten. Über die Hintergründe des Angriffs auf die Polizisten in Dallas ist noch immer wenig bekannt. Im Augenblick stellt die Polizei es so dar, dass es sich vermutlich doch nur um einen Einzeltäter gehandelt hat und nicht um die koordinierte Aktion von mehreren Tätern, die Polizisten von unterschiedlichen Orten aus unter Beschuss genommen hatten.
(...)
Zumal sich eine bewaffnete Person, die von der Polizei mit Hochdruck und großer medialer Begleitung gesucht wurde, als unschuldig herausstellte. Es bleibt von außen gesehen die Verwunderung darüber, wie Menschen mit Gewehren über der Schulter durch eine amerikanische Stadt gehen können, in der gerade die Hölle losgebrochen ist.
Als gesichert gilt bis dato, dass mehrere Gewehrschützen an dem Angriff beteiligt waren. Es gab neben den tödlich getroffenen Polizisten auch mehrere Verletzte, darunter mindestens einen Zivilisten. Die Schüsse erfolgten nach derzeitigem Informationsstand am Ende der Demonstration gegen Polizeigewalt.
Es gibt Videoaufnahmen, die laute, schnell aufeinanderfolgende Schüsse in der Innenstadt dokumentieren. Ob sie, wie in manchen Berichten gemutmaßt wurde, aus einem Hochhaus abgefeuert wurden, ist daraus nicht zu erkennen (auch nicht hier). Und es gibt das oben genannte Video, das zeigt, wie ein Mann einen Polizisten hinter einer Tragsäule eines Gebäudes von hinten überrascht und mit mehreren Schüssen in den Rücken tötet. Die Geschicklichkeit des Mannes lässt Rückschlüsse darauf zu, dass er solche Situationen trainiert hat.
Die Polizei schließt aus den unterschiedlichen Positionen der Schützen, dass die Angreifer ihre Stellungen überlegt eingenommen haben. Sie hätten ein Dreieck gebildet, wird der Polizeichef David O. Brown von der New York times wiedergegeben, sich strategisch geschickt dort platziert, wo der Protestmarsch auslief. Daraus ergibt sich erneut die Frage nach der vorbereitenden Planung. Die Akte der Polizeigewalt, der Grund für die Demonstration, waren erst tags zuvor in die Medien gekommen. Viel Zeit für Planungen ist das nicht.

---
Active Shooter Drill Took Place 8 Days Before Dallas Massacre (emphasis added)

According to CBS DFW an active shooter drill took place in Argyle Texas just 41 miles north of Dallas on June 29 2016.

undefined
FROM CBS DFW: The sights and sounds are scary, but not dangerous.


Members of law enforcement, along with fire and EMS personnel conducted an active shooter exercise at a North Texas high school on Wednesday.





Emergency vehicles could be seen responding with lights and sirens at Argyle High School. Local hospitals also participated in the disaster drill.





The event includes realistic scenarios that have actors playing victims and officers using fake gun rounds.


Argyle ISD Police Chief Paul Cairney said officials are taking every consideration and realize a shooting event can happen in a small town. "We've been thinking about that. But one of the things that we need to make sure that we do, if something were to happen, is we need to have the whole response coordinated and coordinated well, because we don't want to have anymore people that are hurt," he said
Isn't it ironic that another drill took place right before a major tragedy?
What about the military precision of the shooter?
More to come as the situation unfolds…
Below is a 4 minute video that has been scrubbed from Facebook. It's definitely worth a watch .

http://thomasdishaw.com/2016/07/active-shooter-drill-took-place-8-days-dallas-massacre/


---
RE: Dallas-Shooting, Polizeigewalt und der Beginn eines Rassenkrieges? - Huxley - 08.07.2016

Dallas Shootings: It is not the first time Snipers are used on rallys to manipulate public opinion and turn around the outcome

Maidan – http://www.bbc.com/news/magazine-31359021
yemen – http://www.telegraph.co.uk/news/worldnews/middleeast/yemen/8774911/Yemeni-rooftop-snipers-fire-at-random-at-anti-regime-protesters.html
tunisia – http://www.aljazeera.com/indepth/features/2011/02/2011215123229922898.html
… and others
it makes absolut no sense when blacks would kill cops on black lives matter protests … they could do it everywhere with same effect.
only one who would profit from this are people against the black live matter protests … to push the whites against the blacks

---
Dallas:

For the record


Die Mitteilungen der Polizei und über die Presse verbreitete Details passen in keiner Position zusammen.
Doch zuvor ein Disclaimer: Nach meiner bescheidenen Ansicht ist der historische Zeitraum, in dem es noch eine Rolle spielen könnte, ob hier erneut eine Inszenierung der amerikanischen Faschisten vorliegt, oder nicht, mit den Boston - Bombings und der anschließenden, gar nicht mehr verdeckten polizeilichen Ermordung unliebsamer Zeugen. längst überschritten.
Aber das muß ja nicht stimmen (darüber befindet die US-Bevölkerung) und die Fragen, welche die Ereignisse aufwerfen, bleiben eine Herausforderung für das Publikum.

1) Das von Fox-News verbreitete Video (im Artikeltext) zeigt alle Charakteristika der Zugehörigkeit zu einer Inszenierung, wie interessierte Beobachter sie aus dutzenden, wenn nicht inzwischen hunderten Beispielen aus Libyen, Syrien und der Ukraine kennen. Postierte Kameraleute wissen, obwohl weit entfernt, und hiern noch dazu unter ungünstigen Lichtverhältnissen, exakt, wo die "action" stattfinden wird und filmen einen Teil der Beteiligten noch vor den Ereignissen.

2) Das Video widerspricht der Polizeidarstellung von vier koordinierten Schützenpositionen "aus erhöhter Position"

3) Dieser Darstellung widersprechen auch die Angaben über die Verhafteten und die Umstände ihrer Verhaftung:
a) Eine Frau "in der Nähe des Heckenschützen in der Garage"
b) Zwei (!) Verdächtige, die "etwas im Kofferraum ihres Wagens verstauen" und "nicht kooperieren".
c) Die Polizei sagt auch nach vielen Stunden noch, sie sei "nicht sicher", ob sie alle Schützen "erwischt" habe. Folglich kann sie nicht im Besitz der verwendeten Waffen sein.

4) Dennoch hat Obama bei seiner "Reaktion" während des laufenden NATO-Gipfels hervor gehoben von "coordinated attacks" gesprochen, wurde also sehr frühzeitig entsprechend "gebrieft".

5) Entweder die Polizeiangabe, der am Ende mit einer Kriegswaffe erledigte Angreifer habe versichert, er handele allein, ist erlogen, oder die Angabe, es habe sich um einen "koordinierten Angriff" gehandelt. Die einzige Weise, wie beide Aussagen stimmen können, ist die Benutzung eines Patsies, der ohne sein Wissen Schützenhilfe von Spezialagenten des Militärs oder der Polizei bekam.

6) Nach Angaben der "Dallas Morning Post" ist der Einsatz eines Roboters als killing agent eine Premiere in den USA. Dazu:
a) Die Lage war Lichtjahre davon entfernt, eine Tötung unvermeidlich zu machen. Der Angreifer war isoliert, er hätte einfach mit einer Kombination von Tränen- und Rauchgas nebst Blendgranaten widerstandsunfähig gemacht werden können. Dazu wäre der Roboter ein ideales Hilfsmittel gewesen.
b) Wenn es einen koordinierten Angriff gab, war unter den gegebenen Umständen die Tötung des Mannes nicht mal ein "Kunstfehler", sondern eine Verdeckungsoperation.
c) Auch in den USA ist ein erstmaliger Einsatz einer Kriegswaffe im Polizeieinsatz keine Angelegenheit, die ein lokaler Polizeioffizier entscheidet und entscheiden kann, zumal Polizeikräfte nicht routinemäßig über scharfe Bomben und Granaten verfügen, die mal eben aus einem Waffenlager zu holen sind.

Die Angelegenheit stinkt also abermals zum Himmel, und, was viel wichtiger ist, sie SOLL stinken.


---
RE: Dallas-Shooting, Polizeigewalt und der Beginn eines Rassenkrieges? - Huxley - 09.07.2016

If Senseless Violence Continues, America Will Be A Total Police State In No Time

While we don't know who the police murderers in Dallas were, or their motivations; we do know one thing -

their actions will unquestionably have several very counterproductive and dangerous outcomes.



---
Protesters in standoff with police on Atlanta highway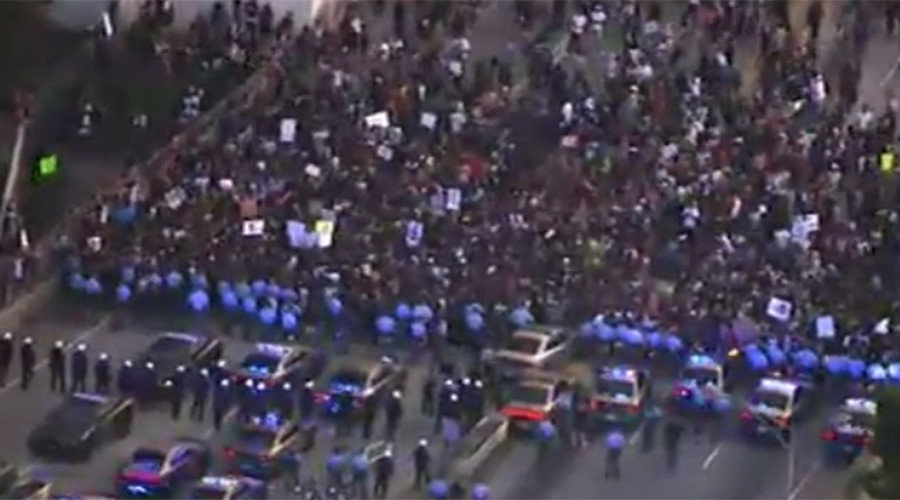 Protesters in Atlanta, Georgia marching against police brutality have shut down Interstate-75 and the northbound side of Interstate-85, where a large police presence is preventing them from advancing further.

Thousands of people rallied in Atlanta, Georgia on Friday to protest the recent police-involved deaths of Alton Sterling and Philando Castile.
https://www.rt.com/usa/350286-protesters-standoff-atlanta-highway/


---