---
RE: Terror in Neuseeland - Rundumblick - 16.03.2019

https://faktenfinder.tagesschau.de/neuseeland-attentat-manifest-101.html
War nur eine Frage der Zeit bis sich der unvermeidliche Antifa-Sympathisant Patrick Gensing zu Wort meldet


---
RE: Terror in Neuseeland - kalter hornung - 16.03.2019


(16.03.2019, 18:37)

A.Hauß schrieb: Wie schon oben erwähnt, häufen sich nun die Parallelen zum Fall Breivik.
Nicht nur, dass "Tarrant" sich auf Breivik beruft.
- er hinterlässt ebenso ein "Manifest" (bei Breivik ist es  ein Zusammenschnitt aus  Internet- und "Philosophie-Stuß, zu dessen Niederschrift Breivik intellektuell nicht in der Lage war. Bei Tarrant - wird man sehen....)
- so wie Breivik schwul - im Ggs zu B. allerdings anscheinend offen
- die Polizei benötigte 36 Minuten bis zur Festnahme (wir erinnern uns an Breivik: da konnte die Polizei partout keinen Hubschrauber auftreiben, absolut kein Boot, und das Schlauchboot dann letztendlich von weit her). Im Falle T. handelt es sich um eine Großstadt, wo innerhalb von 5 Minuten die Bullerei da ist (polizeitechnisch fiel Christchurch vor 20 jahren mal durch extensive Autoraserei von Jugendlichen auf, die sich vor langeweile im beschaulichen Kaff gerne  selbst umbrachten per Auto, die Polizei kriegte das nicht in den Griff...). Von einem halbstündigen Feuergefecht aber haben wir nichts gehört der gelesen. Was passierte also im 30-Minuten-gap? Und warum wird das schon jetzt  so zugekleistert durch den Polizeichef, Minister usw.?

Mal sehen, wie gleichgeschaltet die NZ-Medien so sind.
Es stinkt gewaltig, und bisher rümpft mal wieder und auch hier niemand die Nase.

Nach erstmaligem Anschauen des Videos
https://www.bitchute.com/video/Ik6VYAJGF7os/
stimme ich Stafford zu - es sieht wie ein game aus. Mir fällt auf, dass wie bei Hollitzer so gut wie nie ein Gesicht zu sehen ist. Dann scheinen mir einige Opfer schon zu liegen, bevor sie beschossen werden (aber eben nicht Deckung suchend). Das mehrfache Nach-Schießen erscheint mir sowohl unlogisch (die Gegenargumente liegen auf der Hand. Dennoch.) als auch irreal, denn ein vor Schmerzen zu Boden Gegangener wirkt nicht so unbeeindruckt bei einem zweiten oder dritten Schuss. Auch sehe ich  die Töne nicht parallel zum Geschehen abspielen.).

Weshalb muss jemand, der sich seit angeblich zwei jahren auf die Tat vorbereitet, einen Navy bemühen? Warum passt T. nicht die Gebetszeit bei vollem Haus ab? Weshalb liegen mit den wenigen sichtbaren Ausnahmen die Opfer schön weit von der Kamera entfernt an den Seiten der Räume?

Es scheint, daß diese fabrizierten Ereignisse durch ihre massenhafte Reproduzierbarkeit Walter Benjamins "Auraverlust" unterliegen. Wobei ich mit dem zeitlichen Abstand auch dem Breivik-Ereignis gegenüber mißtrauisch geworden bin, was das "Reale" betrifft.


---
RE: Terror in Neuseeland - Rundumblick - 16.03.2019



Christchurch mosque shooting: Linwood mosque 'hero' tackled gunman, grabbed weapon


A survivor of the shooting at Christchurch's Linwood mosque has revealed how his friend risked his life to tackle the gunman and wrestle away the weapon.
Syed Mazharuddin witnessed the attack and said he heard gunshots and could tell the shooter was very close.
"People got feared and there was screaming around and I tried to take cover," he said.
"By the time I took cover this guy came through the main entrance door and it's a small mosque - there were about 60 to 70 people there.
"Just around the entrance door there were elderly people sitting there praying and he just started shooting at them."
Mazharuddin said the shooter was wearing protective gear and firing wildly.
A man from inside the mosque then tried to tackle the gunman.
"The young guy who usually takes care of the mosque ... he saw an opportunity and pounced on [the gunman] and took his gun," Mazharuddin said.
"The hero tried to chase and he couldn't find the trigger in the gun ... he ran behind him but there were people waiting for him in the car and he fled."

(video) > https://www.nzherald.co.nz/nz/news/article.cfm?c_id=1&objectid=12213205


---
RE: Terror in Neuseeland - Rundumblick - 16.03.2019



Who is Christchurch mosque shooting accused? Brenton Tarrant member of Bruce Rifle Club in Milton


A South Otago rifle club is in "shock" after discovering one of its members - who practised shooting an AR-15 at its range - is the man accused of the Christchurch terror attack.
It has also been revealed the accused gunman, named in court as Brenton Harrison Tarrant, lived in Dunedin since at least 2017 and has been described by residents as both quiet and someone who liked to talk about his travels.
Bruce Rifle Club vice-president Scott Williams confirmed to the Otago Daily Times Tarrant is a member of the club, which is based in Milburn near Milton, and practised shooting at its range.
Members of the club's executive had already given statements to police, Williams said.
From what he could remember, Tarrant used an AR-15 and hunting rifle while practising at the range.
Anyone with a standard firearm licence could own an AR-15 but there were limits on the way they could be configured, he said.
Tarrant seemed "as normal as anyone else'' and had "certainly'' never mentioned anything about his beliefs about Muslims......

> https://www.nzherald.co.nz/nz/news/article.cfm?c_id=1&objectid=12213315


---
RE: Terror in Neuseeland - Rundumblick - 16.03.2019



Terrorangriff in Neuseeland: Attentäter besuchte in den letzten Jahren mehrere Balkanländer


Seine Waffen tragen unter anderem Namen von Schlachtorten und Kämpfern, die auf dem Balkan gegen die Osmanen gekämpft hatten. Der Attentäter von Christchurch ist offenbar ein Kenner der Geschichte des Balkans. Nun wurde bekannt, dass er mehrmals in der Region war.
Der mutmaßliche Haupttäter des Moschee-Massakers in Christchurch in Neuseeland habe im November 2018 als Tourist eine Reihe historischer Orte in Bulgarien besucht, sagte der bulgarische Generalstaatsanwalt Sotir Zazarow am Freitagabend nach einem Treffen von Regierungsvertretern mit den Geheimdiensten.
Der Attentäter sei demnach im vergangenen Herbst von Dubai nach Bulgarien geflogen. Das Balkanland habe er vom 9. bis 15. November 2018 bereist, wobei er Gasthäuser den Hotels vorgezogen habe. Anschließend sei der Attentäter mit einer rumänischen Fluggesellschaft von Bulgarien nach Bukarest weitergeflogen. In Rumänien habe er ein Auto gemietet, um nach Ungarn weiterzureisen. Es sei unklar, ob er allein unterwegs gewesen ist....

weiter > https://deutsch.rt.com/international/85853-terrorangriff-in-neuseeland-attentater-besuchte-balkan/


---
RE: Terror in Neuseeland - Rundumblick - 16.03.2019

ATS - Kommentare:

1.

I have no doubt that terrorist organizations will see the events in Christchurch as an open invitation and "free pass" to wantonly commit similar acts there and elsewhere.

But I also see an opportunity with this particular event (unlike other events)...and this is the so called "manifesto".

The manifesto, if looked at objectively, distills terrorism down to its very core. It shines a light on what terrorism really is, and why it works. You see, and that's it, "terrorism" is NOT about those who are killed; it's about those who LIVE. Terrorism isn't about death...it's about FEAR. So many people don't understand this. It's about changing the behavior of people who survive, forcing them into doing things they ordinarily would not. That's what terrorism is about.

And, terrorism works because of the bloodthirsty media. Anything for a buck, the more gore the better. But this event is different. Not only is it terrorism by definition, but it also openly reveals the secret recipe book of why terrorism works. The media, social media, MSM and all other forms of media. This event openly sows fear and hatred stating straight-up what will happen when the media gets a hold of it.

The bottom line is the media got "used", and their own greed allowed it to happen. They have an opportunity now, one they've always had, but now they have no excuse to ignore it...and nothing else to hide behind. They can effect change, or they can ignore it. We, as a people, should be screaming from every rooftop that we see it, and that we WON'T ignore it even if they choose to. There is nowhere for them left to hide. They've been exposed. The fuse has been lit.

LINK

Übersetzt mit deepl:

(Ich habe keinen Zweifel daran, dass terroristische Organisationen die Ereignisse in Christchurch als offene Einladung und "Freipass" betrachten werden, um ähnliche Handlungen dort und anderswo mutwillig zu begehen.

Aber ich sehe auch eine Chance mit diesem speziellen Ereignis (im Gegensatz zu anderen Ereignissen)....und das ist das so genannte "Manifest".

Das Manifest, wenn man es objektiv betrachtet, destilliert den Terrorismus bis ins Mark. Sie beleuchtet, was Terrorismus wirklich ist und warum er funktioniert. Siehst du, und das ist es, "Terrorismus" geht NICHT um diejenigen, die getötet werden; es geht um diejenigen, die LEBEN. Beim Terrorismus geht es nicht um den Tod.... sondern um Angst. So viele Leute verstehen das nicht. Es geht darum, das Verhalten von Menschen, die überleben, zu ändern und sie zu zwingen, Dinge zu tun, die sie normalerweise nicht tun würden. Das ist es, worum es beim Terrorismus geht.

Und Terrorismus funktioniert wegen der blutrünstigen Medien. Alles für einen Dollar, je mehr Gore, desto besser. Aber dieses Ereignis ist anders. Es ist nicht nur Terrorismus per Definition, sondern offenbart auch das geheime Rezeptbuch, warum Terrorismus funktioniert. Die Medien, Social Media, MSM und alle anderen Formen von Medien. Dieses Ereignis sät offen Angst und Hass und erklärt, was passieren wird, wenn die Medien es in die Finger bekommen.

Das Entscheidende ist, dass die Medien "benutzt" wurden, und ihre eigene Gier ließ es zu. Sie haben jetzt eine Gelegenheit, eine, die sie immer hatten, aber jetzt haben sie keine Ausrede mehr, sie zu ignorieren.... und nichts anderes, um sich dahinter zu verstecken. Sie können Veränderungen bewirken, oder sie können sie ignorieren. Wir als Volk sollten von jedem Dach schreien, dass wir es sehen, und dass wir es NICHT ignorieren werden, selbst wenn sie es wollen. Es gibt keinen Ort mehr, an dem sie sich verstecken können. Sie wurden entblößt. Die Sicherung ist angezündet.)

2.
At the end of the day, sometimes you just have to accept the fact that evil exists and sometimes it wins, even if it's just for a short period of time.

Be it this current massacre, the Orlando nightclub shooting, any number of insane mass killings in Temples or churches. . .sometimes evil crap gets done.

Our species is screwed up and is constantly divided.

I don't think we're any more divided today than we were last week.

The shooter thought too highly of himself and the impact this would have.

It happened, it's sick. It's tragic.

I don't think anyone would disagree with that.

But the true test will be what we're talking about next week, next month, next year.

Übersetzung:

Am Ende des Tages muss man manchmal einfach die Tatsache akzeptieren, dass das Böse existiert und manchmal gewinnt es, auch wenn es nur für kurze Zeit ist.

Sei es dieses aktuelle Massaker, die Schießerei im Nachtclub Orlando, eine Vielzahl von wahnsinnigen Massenmorden in Tempeln oder Kirchen. ...manchmal wird böser Mist gemacht.

Unsere Spezies ist im Arsch und wird ständig geteilt.

Ich glaube nicht, dass wir heute mehr gespalten sind als letzte Woche.

Der Schütze hielt sich zu sehr für sich selbst und die Auswirkungen, die dies haben würde.

Es ist passiert, es ist krank. Es ist tragisch.

Ich glaube nicht, dass jemand damit nicht einverstanden wäre.

Aber der wahre Test wird sein, worüber wir nächste Woche, nächsten Monat und nächstes Jahr sprechen.

3.

Something stinks about the blame game in this catastrophe. He's travelled the "world" going to Asian and Muslim countries, his manifesto contains both alt-left and alt-right craziness, the alleged hand signal that sounds like it's just being made up and of course the alt-left media jumping on this like a pack of rabid hyenas and sun baked vultures, so quick to blame the "right."

When I worked for the military and ci, the rule was plausible deniability in ANY action. That means you divert blame to someone else or some other group, you pre-lay the seeds of doubt so blame can be easily assigned and used effectively against your enemy. It's part and parcel of any good hegelian dielectric operation to produce a desired result.

I think we have to wait and see who this scumbag was working for and I am under the impression it will likely come as a shock as this massacre fits a very specific false flag profile.

Übersetzung:

Etwas stinkt an dem Schuldzuweisungsspiel in dieser Katastrophe. Er hat die "Welt" bereist, indem er in asiatische und muslimische Länder ging, sein Manifest enthält sowohl alt-links als auch alt-rechts Wahnsinn, das angebliche Handsignal, das so klingt, als würde es gerade erfunden werden, und natürlich die alt-links Medien, die darauf springen wie ein Rudel tollwütiger Hyänen und sonnengebackener Geier, die so schnell dem "Recht" die Schuld geben.

Als ich für das Militär und die Ci arbeitete, war die Regel plausible Leugnung in JEDER Aktion. Das bedeutet, dass du die Schuld auf jemand anderen oder eine andere Gruppe verteilst, du legst die Samen des Zweifels vor, so dass die Schuld leicht zugewiesen und effektiv gegen deinen Feind eingesetzt werden kann. Es ist Teil jeder guten hegelschen dialektischen Operation, um ein gewünschtes Ergebnis zu erzielen.

Ich denke, wir müssen abwarten, für wen dieser Drecksack gearbeitet hat, und ich habe den Eindruck, dass es wahrscheinlich ein Schock sein wird, da dieses Massaker zu einem sehr spezifischen falschen Flaggenprofil passt.


---
RE: Terror in Neuseeland - Rundumblick - 16.03.2019



The circus must go on as usual



https://www.dailymail.co.uk/news/article-6815463/PICTURED-confirmed-victims-Christchurch-mosque-massacre.html

https://www.dailymail.co.uk/news/article-6816117/Brenton-Tarrants-grandmother-says-good-boy-came-home-Christmas.html

https://www.dailymail.co.uk/news/article-6815689/Shooting-victim-shot-four-times-posts-video-live-hospital-bed.html

https://www.dailymail.co.uk/news/article-6814355/Mosque-massacre-hero-wrestled-gun-killer-forced-flee-waiting-car.html

https://www.dailymail.co.uk/news/article-6815517/How-mosque-terror-attack-nightmare-unfolded-17-horrific-minutes.html

https://www.dailymail.co.uk/news/article-6816095/Christchurch-cemetery-prepares-mass-Muslim-funerals.html


---
RE: Terror in Neuseeland - Rundumblick - 17.03.2019



NZ Threatens 10 Years In Prison For 'Possessing' Mosque Shooting Video; Web Hosts Warned, 'Dissenter' Banned



New Zealand authorities have reminded citizens that they face up to 10 years in prison for "knowingly" possessing a copy of the New Zealand mosque shooting video - and up to 14 years in prison for sharing it. Corporations (such as web hosts) face an additional $200,000 ($137,000 US) fine under the same law.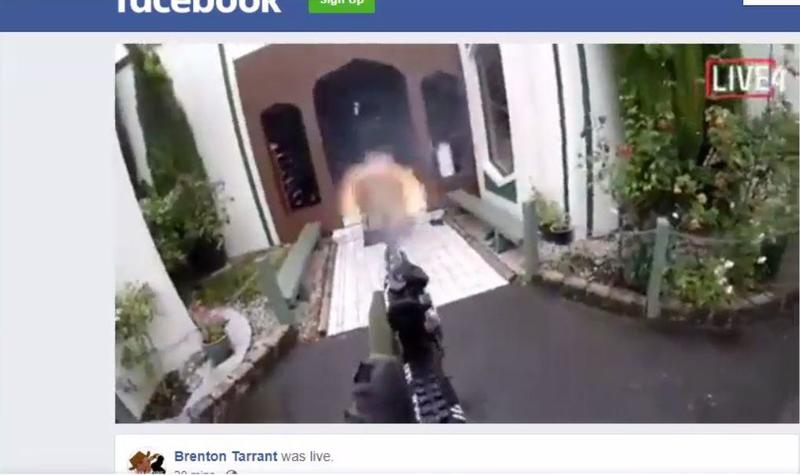 Terrorist Brenton Tarrant used Facebook Live to broadcast the first 17 minutes of his attack on the Al Noor Mosque in Christchurch, New Zealand at approximately 1:40 p.m. on Friday - the first of two mosque attacks which left 50 dead and 50 injured. 
Copies of Tarrant's livestream, along with his lengthy manifesto, began to rapidly circulate on various file hosting sites following the attack, which as we noted Friday - were

quickly scrubbed from mainstream platforms

such as Facebook, YouTube, Twitter and Scribd. YouTube has gone so far as to 

intentionally disable search filters

 so that people cannot find Christchurch shooting materials - including 

footage of suspected multiple shooters 

as well as the arrest of Tarrant and other suspects. 
On Saturday, journalist Nick Monroe reported that New Zealand police have warned citizens that they face imprisonment for distributing the video, while popular New Zealand Facebook group Wellington Live notes that "NZ police would like to remind the public that

it is an offence to share an objectional publication which includes the horrific video from yesterday's attack

. If you see this video, report it immediately.

Do not download it. Do not share it. If you are found to have a copy of the video or to have shared it, you face fines & potential imprisonment.

"
?New Zealanders threatened with 10 YEARS IN JAIL if they have the shooting video. ?

"Anybody found "knowingly" in possession of objectionable material can receive a maximum of 10 years imprisonment."

14 YEARS IN JAIL if you are a "dealer" of the video https://t.co/ZIlKtsUaKt pic.twitter.com/Jus4VLUvZB
— Nick Monroe (@nickmon1112) March 16, 2019
We would also like to remind the public that it is an offence to distribute an objectionable publication and that is punishable by imprisonment.

Once again I want to reassure the public that a large Police presence remains in the city for the time being.
— New Zealand Police (@nzpolice) March 15, 2019


Dissenter blocked in New Zealand


Along with the censorship of online materials and investigation of content sharing platforms such as BitChute and 8chan - where the shooter posted a link to the livestream of his attack, social discussion service Dissenter has been blocked in New Zealand. Created by the people behind Twitter competitor Gab.ai - Dissenter is a browser extension which pops up a third-party comments section for any website where people can discuss content

outside of the control of the website owner

.
(....)


Update: 

Shortly after this article published, we were informed that ZeroHedge is unable to be reached by Votafone customers.
Well I just turned on the VPN and Zerohedge is now available. So there we have it - censorship is in full swing here in New Zealand! pic.twitter.com/o2VPDsZNLb
— VOOM (@kylenz99) March 17, 2019

> https://www.zerohedge.com/news/2019-03-16/nz-threatens-10-years-prison-possessing-mosque-shooting-video-web-hosts-warned


---
RE: Terror in Neuseeland - Rundumblick - 17.03.2019



New Zealand shooting suspect's worldwide trips investigated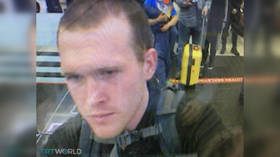 A CCTV video still of Brenton Tarrant at a Turkish airport in 2016 made available by TRT World

The Australian accused of the deadly shooting at two mosques in New Zealand traveled around the globe, including Eastern Europe, Turkey, Pakistan and probably North Korea.

Authorities in several countries are probing his trips.
Before his shooting spree left 50 worshipers dead and 40 people injured in Christchurch on Friday, Brenton Harrison Tarrant published a manifesto where the 28-year-old mentioned visiting Pakistan, North Korea, Turkey, France, Poland, Bulgaria, Ukraine, Iceland, Argentina and many other countries. Now, some of these states are investigating what he might have done there and whether he picked up his radical ideas during his travels.


UK


One of those countries is the UK, as the gunman called for the murder of London mayor Sadiq Khan. Tarrant accused Khan of working to

"replace"

the majority-white British people with Muslims. MI5 is now looking into Tarrant's possible links to far-right radicals in Britain that he might have established during his European visits.
The bodybuilder and personal trainer from a small Aussie town wrote that he was able to fund his many travels after successfully investing in cryptocurrency.


Bulgaria


Bulgarian security and intelligence chiefs held an emergency meeting following the Christchurch shooting, as the Eastern European country was one of Tarrant's most recent destinations.
The gunman was in Bulgaria between November 9 and 15 last year

"to visit historical sites and study the history of the Balkan country,"

Prosecutor-General Sotir Tsatsarov, told the media.
(....)


Turkey


Tarrant visited Turkey at least two times, staying an

"exended period of time in the country,"

an unnamed Turkish official told TRTWorld. His visits took place in 2016, before and after the failed Turkish coup in mid-July.
In his manifesto, the gunman urged the recapture of Istanbul's Hagia Sophia from the Muslims and the assassination of Turkish President, Recep Tayyip Erdogan.....

weiter > https://www.rt.com/news/454020-new-zealand-shooting-suspect-travel/


---
RE: Terror in Neuseeland - Rundumblick - 17.03.2019

Christchurch



Facebook musste in den ersten 24 Stunden 1,5 Millionen Videos löschen


Erst streamte der Täter den Doppelschlag - dann versuchten über eine Million Menschen weltweit, Videos davon zu verbreiten. Premierministerin Ardern will mit Facebook darüber reden. Zudem erklärte sie, dass sie das "Manifest" per Email bekam.
Erst streamte der Täter den Doppelschlag - dann versuchten über eine Million Menschen weltweit, Videos davon zu verbreiten. Premierministerin Ardern will mit Facebook darüber reden. Zudem erklärte sie, dass sie das "Manifest" per Email bekam.
Von den 1,5 Millionen Videos seien 1,2 Millionen bereits während des Upload-Vorgangs blockiert worden: Facebook will nach dem Anschlag auf zwei Moscheen in Neuseeland und wiederholter Kritik konsequentes Durchgreifen beweisen. Per Twitter erklärte das Unternehmen, dass in den ersten 24 Stunden nach dem Angriff weltweit 1,5 Millionen Videobeiträge entfernt worden seien.
(....)
Der festgenommene Haupttäter hatte vor seiner Tat Links zu einem Manifest auf Facebook und Instagram gepostet. Auch die Profile des Täters seien umgehend gelöscht worden, so Facebook. Auch Posts, die die Tat verherrlichten seien entfernt worden oder würden künftig blockiert.
Neun Minuten vor der Tat Emails verschickt
Die neuseeländische Premierministerin Jacinda Ardern erklärte am Sonntag auf einer Pressekonferenz in Wellington, dass Facebook-Geschäftsführerin Sheryl Sandberg sie kontaktiert habe, um ihr ihr Beileid nach dem Doppelanschlag mit 50 Toten auszusprechen.....

> https://www.welt.de/politik/ausland/article190407887/Christchurch-Facebook-musste-in-den-ersten-24-Stunden-1-5-Millionen-Videos-loeschen.html


---