---
RE: Terror in Neuseeland - Elias Davidsson - 18.03.2019

Namen von einigen der Neu-Seeland Opfern:

Quelle (CNN: https://edition.cnn.com/asia/live-news/live-updates-new-zealand-shooting-christchurch-terror-attack-intl/index.html)

Linda Armstrong, 65
Hafiz Musa Patel (from Fiji)
• Atta Elayyan (Palestinian origin)
• Abdel Fattah Qassem Al-Dokki (Palestinian origin)
• Ali Al-Madani (Palestinian origin)
• Amgad Hamid (Palestinian origin)
• Osama Abu Kowik (Palestinian origin)
• Kamal Darwish (Palestinian origin)
Sayyad Milne (14)
Nine Pakistanis - six of whom will be buried in New Zealand (incl. Naeem Rashid (50) and his son Talha Rashid (21)
Maheboob Khokhar (from India)
Ramiz Vora (from India)
Asif Vora (from India)
Ozair Kadir. (from India)
Ansi Alibava, 25 (from Kerala, India)

A total of 34 patients injured in Friday's attacks remain in Christchurch Hospital, including 12 people in intensive care.


---
RE: Terror in Neuseeland - Rundumblick - 19.03.2019



Zero Hedge, LiveLeak blocked, sharers warned of jail as NZ censors crack down on mosque attack video



New Zealand police are warning citizens they'll face 10 years in prison for sharing the Christchurch mosque attack video, and a host of websites have been blocked as censors scrub the shooter's manifesto from the internet.
Video footage of killer Brenton Tarrant's shooting spree at a Christchurch mosque on Friday – which left 50 worshippers dead – was pulled from Facebook immediately after the massacre. With the footage proliferating on several hosting platforms afterwards, the Kiwi authorities have already charged an 18-year-old man for sharing the video, as well as for posting other

"objectionable"

comments days before the shooting.
The teenager faces up to ten years in prison, under New Zealand's 'objectionable and restricted material' laws. Police have meanwhile issued an overt threat to anyone else looking for the video.


"Do not download it. Do not share it. If you are found to have a copy of the video or to have shared it, you face fines & potential imprisonment,"

read a statement from the police via local news source Wellington Live.
?New Zealanders threatened with 10 YEARS IN JAIL if they have the shooting video. ?

"Anybody found "knowingly" in possession of objectionable material can receive a maximum of 10 years imprisonment."

14 YEARS IN JAIL if you are a "dealer" of the video https://t.co/ZIlKtsUaKtpic.twitter.com/Jus4VLUvZB
— Nick Monroe (@nickmon1112) March 16, 2019
Under the objectionable material laws, corporations can be fined up to NZ$200,000 (US$173,000) for sharing the video or any related content. Unsurprisingly, New Zealand's Internet Service Providers rushed to ban websites suspected of sharing the shooting-related materials since the tragedy.
We've started temporarily blocking a number of sites that are hosting footage of Friday's terrorist attack in Christchurch. We understand this may inconvenience some legitimate users of these sites, but these are extreme circumstances and we feel this is the right thing to do.
— Telstra News (@Telstra_news) March 18, 2019
Reports from internet users across New Zealand say that 8chan – the site on which Tarrant announced his atack and posted links to his white nationalist manifesto – has been banned. Social discussion service Dissenter has also been banned, as has content sharing platform Bitchute. In neighboring Australia, ISPs have reportedly banned

"cesspool of the internet,"

4chan.
Getting reports that New Zealand ISPs have banned https://t.co/3NwGyCZbgI until it is "censorship compliant," despite the fact that Dissenter was in no way involved with this week's tragic events in NZ. pic.twitter.com/IbL3s0gp1D
— Dissenter.com is ? by Gab (@getongab) March 16, 2019
Trolls and memers attempting to access Bitchute and 4chan were greeted with an Interpol notice warning that the sites in question are

"distributing child sexual abuse material."


I just got this trying to visit 4chan from Australia on a @Kogan (vodaphone reseller) connection.

It seems anything listed on https://t.co/3ErcoHowGY is being blanket shut down & anyone that tries to visit is labelled a kiddy diddler. pic.twitter.com/R9IeHOJCj6
— Davey G (@Goldsteinm8ty) March 18, 2019
Popular video sharing site LiveLeak has also been reportedly blocked – although its moderators explicitly said in a statement that they would not allow the live video of the shooting to be shared there.
Why did they ban liveleak in new zealand. They won't even show the christchurch video. Ironically they're one of the better sites when it comes to deplatforming shit like that pic.twitter.com/oqI8xJIUEk
— dehd (@WienerLover39) March 18, 2019
Even the anti-establishment blog and economic news site Zero Hedge was roped in, and has been reportedly banned by some New Zealand ISPs. While the reason was not immediately clear, the popular anonymous news source has extensively covered the Kiwi censorship efforts in wake of the shooting and posted excerpts from Tarrant's manifesto – but so did a host of other Anglophone media, including the Daily Mail, quoted in several Zero Hedge articles.
Well I just turned on the VPN and Zerohedge is now available. So there we have it - censorship is in full swing here in New Zealand! pic.twitter.com/o2VPDsZNLb
— VOOM (@kylenz99) March 17, 2019
The 80-page manifesto – a violent invective against Muslim immigration littered with internet memes and 4chan insider jokes – has been scrubbed from multiple file-hosting sites, including Scribd and Pastebin.
The crackdown extends beyond New Zealand too. Far-right provocateur Milo Yiannopoulos was banned from entering Australia after the shootings, for a Facebook post in which he called Islam a

"barbaric, alien"

religious culture. Yiannopoulos had already been engaged in a protracted legal battle with the Australian government for almost a year to bring his controversial speaking tour to the country. While in the UK, police arrested a man in Oldham on Saturday for alleged social media posts

"making reference and support for the terrible events in New Zealand."



> https://www.rt.com/news/454158-new-zealand-censors-mosque-shooting/


---
RE: Terror in Neuseeland - Rundumblick - 19.03.2019

NZ Police Happened to Be in a Training Session When Mosque Shooting Began

Now we learn of yet another strange "coincidence".

Apparently New Zealand police were engaging in a training exercise very close to where the Mosque shootings started.

New York Times has a story about as well as others.

How many of these "one in a million" coincidences will it take ?

Very Very Interesting

It took police officers in New Zealand 36 minutes to catch the terrorist who murdered 50 people in two Christchurch mosques last week. Dramatic footage shows that just two officers—only one of whom had a gun—apprehend the suspect after his bloody rampage. We are now learning that this response time would have been longer, but police happened to be conducting a drill nearby practicing for a similar attack.

In what can be described as an extremely strange "coincidence," Chris Cahill, a detective inspector who is president of a local labor union for police officers, explained that officers were involved in a drill near the city center when the shooting broke out.

According to the NY Times:

The police said a special armed tactical unit arrived at Al Noor Mosque four minutes after the first officers, or 10 minutes after the initial emergency call.

Mr. Cahill said it normally would have taken longer, with team members summoned to a police station to suit up. On Friday, though, they happened to be in a training session in the city center and wearing their gear, he said.

---
Es dauerte 36 Minuten, bis die Polizisten in Neuseeland den Terroristen erwischten, der letzte Woche in zwei Moscheen in Christchurch 50 Menschen ermordet hatte. Dramatische Aufnahmen zeigen, dass nur zwei Offiziere - nur einer von ihnen hatte eine Waffe - den Verdächtigen nach seinem blutigen Raubzug festnehmen.

Wir erfahren jetzt, dass diese Reaktionszeit länger gewesen wäre, aber die Polizei führte zufällig eine Übung in der Nähe durch und übte für einen ähnlichen Angriff.



In einem,

was als äußerst seltsamer "Zufall" beschrieben werden kann

, erklärte Chris Cahill, ein Detektivinspektor, der Präsident einer lokalen Gewerkschaft für Polizisten ist, dass Beamte an einer Übung in der Nähe des Stadtzentrums beteiligt waren, als die Schießerei ausbrach.

Laut der NY Times:

Die Polizei sagte, dass eine spezielle bewaffnete taktische Einheit vier Minuten nach den ersten Offizieren oder 10 Minuten nach dem ersten Notruf in der Al Noor Moschee ankam.

Herr Cahill sagte, dass es normalerweise länger gedauert hätte, mit Teammitgliedern, die zu einer Polizeistation gerufen wurden, um sich anzupassen. Am Freitag jedoch waren sie zufällig in einer Trainingseinheit im Stadtzentrum und trugen ihre Kleidung, sagte er.

Übersetzt mit http://www.DeepL.com/Translator


---
RE: Terror in Neuseeland - Rundumblick - 19.03.2019

"Any police force in the world — to get to the scene in six minutes, a specialist team there in 10 — that would be a success," Mr. Cahill said.
Police in New Zealand don't typically carry firearms, much less dress in tactical gear, so officers holding a drill with all their tactical equipment and weapons at the ready was a helpful coincidence indeed.
For those who may be unaware, the significance of the drill is important due to the fact that most terror attacks in recent history have coincided with drills very similar to the actual terrorism that unfolds.
In November of 2015, during the tragic attacks on Paris, it was later reported that Paris-area emergency personnel and ambulance crews were taking part in a simulated emergency exercise on the very same day. The exact nature of the drill was a simulated mass shooting attack, according to Dr. Mathieu Raux, emergency room chief at the Pitié-Salpetrière hospital in Paris.
Also, during the 9/11 attacks on the U.S., North American Aerospace Defense Command's (NORAD) was in the midst of a training exercise called Vigilant Guardian, which "coincidentally" simulated planes being hijacked by terrorists.
A story in Aviation Week made clear the connection between the 9/11 attacks and the NORAD drills taking place at virtually the same moment:
At 8:40 a.m. EDT, Tech. Sgt. Jeremy W. Powell of North American Aerospace Defense Command's (Norad) Northeast Air Defense Sector (NEADS) in Rome, N.Y., took the first call from Boston Center. He notified NEADS commander Col. Robert K. Marr, Jr., of a possible hijacked airliner, American Airlines Flight 11.
"Part of the exercise?" the colonel wondered. No; this is a real-world event, he was told. Several days into a semiannual exercise known as Vigilant Guardian, NEADS was fully staffed, its key officers and enlisted supervisors already manning the operations center "battle cab."
In retrospect, the exercise would prove to be a serendipitous enabler of a rapid military response to terrorist attacks on Sept. 11. Senior officers involved in Vigilant Guardian were manning Norad command centers throughout the U.S. and Canada, available to make immediate decisions.
As if these two events weren't a strange enough "coincidence," the London subway attacks on 7/7 also encompassed drills happening only days prior to that terrorist attack.
A report by the

Daily Mail

stated:
Police completed a terror training exercise, which envisaged an attack on London's transport network just days before the 7/7 atrocity, an inquest heard today.
During the 'table top' drill, officers were asked to respond to imaginary bombings at Waterloo, Embankment and St James's Park Underground stations.
But there was absolutely no intelligence at the time to suggest such an attack was imminent, the hearing was told…
Christopher Coltart, barrister for some of the bereaved families, told the inquest the 'Hanover' exercise, which took place on July 1 and July 2 2005 and involved officers from the Met's anti-terror branch, 'had at its core, an attack on the Underground'.
Asked if it was simply a 'coincidence' that this took place just days before 7/7, Mr Allison replied: 'That's entirely correct.'
It seems odd that some of the most prolific terror attacks in recent history all share this common thread.
This tragic event in New Zealand is already being used to go after free speech and gun rights. The New Zealand government began arresting people for sharing the video of the shooter's live stream as well as pushing new gun laws.
Another particularly strange coincidence is the fact that 30 survivors of the Parkland shooting traveled to Christchurch last July. The purpose of that trip, according to Sandi Davis, a sociology teacher at Stoneman Douglas, was a way to help the students cope with the tragedy they experienced and also as a way for them to learn how to sustain the anti-gun violence movement they had begun in the Parkland shooting's aftermath.
Parkland students mourn for friends made in Christchurch.
Nearly 30 students from Marjory Stoneman Douglas High School traveled there last summer to cope with their trauma.
"It's kind of like the same feelings as when our school shooting happened." https://t.co/b7KJKHq9An
— NBC News (@NBCNews) March 16, 2019
The prevalence of terror drills, which mirror the actual terrorist attacks, being run in such close proximity to the actual events taking place begs the question of whether these drills mirroring actual events are truly just a "coincidence," or are perhaps an indication of something much more sinister. Either way, this terrorist scumbag who murdered innocent people will have his plans of stoking hatred and divide come to fruition as the media and government play right into his plan.

> https://www.activistpost.com/2019/03/nz-police-happened-to-be-in-a-training-session-when-mosque-shooting-began.html


---
"Jede Polizei der Welt - in sechs Minuten zum Tatort zu kommen, ein Spezialistenteam in zehn Minuten - das wäre ein Erfolg", sagte Cahill.
Die Polizei in Neuseeland trägt typischerweise keine Schusswaffen, geschweige denn Kleidung in taktischer Ausrüstung, so dass Offiziere, die einen Bohrer(?) mit all ihrer taktischen Ausrüstung und Waffen in Bereitschaft halten, ein hilfreicher Zufall waren.
Für diejenigen, die sich dessen nicht bewusst sind, ist die Bedeutung der Übung wichtig, da die meisten Terroranschläge in der jüngsten Geschichte mit Übungen zusammenfielen, die dem tatsächlichen Terrorismus, der sich entfaltet, sehr ähnlich sind.
Im November 2015, während der tragischen Anschläge auf Paris, wurde später berichtet, dass das Rettungspersonal und die Rettungsdienste im Pariser Gebiet noch am selben Tag an einer simulierten Notfallübung teilnahmen. Die genaue Art des Bohrers war ein simulierter Massenangriff, so Dr. Mathieu Raux, Leiter der Notaufnahme im Krankenhaus Pitié-Salpetrière in Paris.
Auch während der Anschläge vom 11. September auf die USA befand sich das North American Aerospace Defense Command's (NORAD) inmitten einer Trainingsübung namens Vigilant Guardian, die "zufällig" Flugzeuge simulierte, die von Terroristen entführt wurden.
Eine Geschichte in der Aviation Week machte den Zusammenhang zwischen den Anschlägen vom 11. September 2001 und den NORAD-Übungen deutlich, die praktisch im selben Moment stattfinden:
Um 8:40 Uhr EDT, Tech. Sergeant Jeremy W. Powell vom North American Aerospace Defense Command's (Norad) Northeast Air Defense Sector (NEADS) in Rom, N.Y., nahm den ersten Anruf vom Boston Center entgegen. Er informierte den NEADS-Kommandanten Col. Robert K. Marr, Jr., über ein mögliches entführtes Verkehrsflugzeug, American Airlines Flug 11.
"Teil der Übung?" fragte sich der Colonel. Nein, das ist ein Ereignis aus der Praxis, wurde ihm gesagt. Einige Tage nach einer halbjährlichen Übung, die als Vigilant Guardian bekannt ist, war NEADS vollständig besetzt, seine leitenden Offiziere und angeworbenen Supervisoren bemannen bereits das Operationszentrum "Battle Cab".
Im Rückblick würde sich die Übung als glücklicher Ermöglicher einer schnellen militärischen Reaktion auf Terroranschläge vom 11. September erweisen. Senior Officers, die am Vigilant Guardian beteiligt waren, besetzten die Norad Kommandozentren in den USA und Kanada, die für sofortige Entscheidungen zur Verfügung standen.
Als ob diese beiden Ereignisse nicht ein seltsamer "Zufall" wären, umfassten die Londoner U-Bahn-Angriffe am 7. Juli auch Übungen, die nur wenige Tage vor diesem Terroranschlag stattfanden.
Ein Bericht der Daily Mail lautet:
Die Polizei absolvierte eine Terrorübung, die einen Anschlag auf das Londoner Verkehrsnetz nur wenige Tage vor der 7/7-Grausamkeit vorsah, eine Untersuchung, die heute gehört wurde.
Während der "Übung" wurden die Offiziere gebeten, auf imaginäre Bombenanschläge in den U-Bahn-Stationen Waterloo, Embankment und St. James's Park zu reagieren.
Aber es gab damals absolut keine Informationen, die darauf hindeuteten, dass ein solcher Angriff unmittelbar bevorsteht, wurde der Anhörung gesagt.....
Christopher Coltart, Rechtsanwalt einiger der Hinterbliebenenfamilien, erzählte der Untersuchung die Übung "Hannover", die am 1. Juli und 2. Juli 2005 stattfand und an der Offiziere der Antiterrorabteilung von Met beteiligt waren, "hatte im Kern einen Angriff auf den Untergrund".
Auf die Frage, ob es sich nur um einen "Zufall" handelte, dass dies nur wenige Tage vor dem 7.7. stattfand, antwortete Herr Allison: "Das ist völlig richtig".
Es scheint seltsam, dass einige der produktivsten Terroranschläge der jüngeren Geschichte alle diesen gemeinsamen Nenner teilen.
Dieses tragische Ereignis in Neuseeland wird bereits genutzt, um sich für die Meinungs- und Schusswaffenfreiheit einzusetzen. Die neuseeländische Regierung begann, Menschen wegen der Weitergabe des Videos des Live-Streams des Schützen zu verhaften und neue Waffengesetze durchzusetzen.


Ein weiterer besonders seltsamer Zufall ist die Tatsache, dass 30 Überlebende der Parkland-Shootings im vergangenen Juli nach Christchurch gereist sind. Der Zweck dieser Reise, so Sandi Davis, Soziologielehrer bei Stoneman Douglas, sei eine Möglichkeit, den Schülern bei der Bewältigung der erlebten Tragödie zu helfen und auch, um zu lernen, wie sie die Anti-Gewehr-Gewaltbewegung, die sie nach den Folgen des Parkland-Schießens begonnen hatten, unterstützen können.




Parkland-Studenten trauern um Freunde aus Christchurch.


Fast 30 Schüler der Marjory Stoneman Douglas High School reisten letzten Sommer dorthin, um ihr Trauma zu bewältigen.
"Es sind sozusagen die gleichen Gefühle wie bei unseren Schulschießereien." https://t.co/b7KJKHq9An
- NBC News (@NBCNews) 16. März 2019
Die Prävalenz von Terrorübungen, die die tatsächlichen Terroranschläge widerspiegeln und in so unmittelbarer Nähe zu den tatsächlich stattfindenden Ereignissen durchgeführt werden, wirft die Frage auf, ob diese Übungen, die die tatsächlichen Ereignisse widerspiegeln, wirklich nur ein "Zufall" sind oder vielleicht ein Hinweis auf etwas viel düstereres. So oder so, dieser terroristische Drecksack, der unschuldige Menschen ermordet hat, wird seine Pläne, Hass und Spaltung zu schüren, verwirklichen, wenn die Medien und die Regierung direkt in seinen Plan einsteigen.

dazu:


New Zealand shooting: Parkland students heartbroken for their friends in Christchurch




In July 2018

, Christian was among the 28 students and four chaperones who traveled

from Parkland, Florida, to the University of Canterbury in Christchurch

— a visit that was intended to help the students cope with the aftermath of the mass shooting at the Marjory Stoneman Douglas High School....
> https://www.nbcnews.com/news/us-news/new-zealand-shooting-parkland-students-mourn-friends-made-christchurch-n983791?cid=sm_npd_nn_tw_ma

(strange coincidence)



Zensur:



Several websites have been wiped off the Australian internet map its very suspicious I mean all your ISIS beheading tapes are still on you tube but there seems to be a sense of urgency to remove this particular video from the web

(Mehrere Websites wurden von der australischen Internetkarte gelöscht, es ist sehr verdächtig, ich meine, alle Ihre ISIS-Kopfabshneider-bänder sind immer noch zusehen, aber es scheint eine Dringlichkeit zu geben, dieses spezielle Video aus dem Internet zu entfernen.)


---
RE: Terror in Neuseeland - nereus - 19.03.2019

Hallo ffh!

Sehr gute Idee von Dir noch mehr Fotos einzustellen.

Die wesentlichen Gesichtsmerkmale (Augenabstand, Nasengröße, Lippenausprägung und deren jeweiligen Abstände untereinander) halte ich von Kinderbildern bis jetzt für plausibel, trotz aller Gewichtsunterschiede und Entwicklung (Kind, Jugendlicher, Erwachsener).

Der Mann soll 1,68 m groß sein, wie ich der 5 Fuß, 6 inch Angabe entnehmen konnte.
Dieser Größe scheint er auch im Gericht zu entsprechen, wobei die kräftigen Oberarme auf regelmäßiges Training schließen lassen.

Da sich die Körpergröße nur unwesentlich ändert und erst im hohen Alter sichtbar reduziert, wäre eine Analyse des Strandbilds sinnvoll.
Das Bild bietet keine Vergleichsmöglichkeit und hier ist zwischen 1,65 und 1,85 m alles drin.
Ich gebe aber zu, der vor Gericht Präsentierte wirkt eindeutig bulliger, was aber eben auf Kraftsport zurück zu führen sein könnte und da wirken kleinere Menschen bei Zunahme der Muskelmasse eher "kräftiger".

Warum verpixelt man eigentlich das Bild des Angeklagten?
Das hat man bei Breivik doch auch nicht gemacht und mittlerweile gibt es massige Fotos von ihm.
Oder steht da ein spezielles neuseeländisches Recht davor?

mfG
nereus


---
RE: Terror in Neuseeland - Rundumblick - 19.03.2019



Christchurch killer's livestream: Facebook reveals viewer numbers, responds to critic



Facebook says only a handful of people watched the alleged Christchurch shooter's 17-minute livestream - but also acknowledges that stamping out copies is an ongoing effort.
"In the time that it was actually live, fewer than 200 people viewed it," the social network's vice president for global policy Monika Bickert told the

Herald

.
"And in the time that it took us to remove any version of that initial video from Facebook, fewer than 4000 people total - including the initial number who saw it live - were able to view that video."
Bickert, who is based at Facebook's head office in Menlo Park, California, said Facebook's AI (artificial intelligence) systems did not detect the gunman's broadcast.
"Our technology didn't find this, and there were no reports by users during the livestream," she said.
The first alert came from NZ law enforcement "within an hour," she said, at which point it was "taken down within minutes."
Although the livestream, which began at 1.40pm on Friday, was only seen by a relatively small number of people - by Facebook standards - it was enough for it to be copied, then spread virally through Google-owned YouTube, Twitter and other platform
"The video has been distributed elsewhere and yes we're looking to find the new versions of it," Bickert said.

In the first 24 hours after the shooting, there were 1.5 million attempts to upload the shooter's video, or edited variants, to Facebook. Some 1.3m were blocked on upload, and the others hunted out soon after.

Bickert said Facebook was working with other social media rivals, and also proactively seeking out variants of the clip elsewhere on the web, which makes it easier to block them.
Earlier today, Privacy Commissioner John Edwards - who sees distribution of the clip as an "egregious" violation of victims' privacy rights - called on Facebook to hand over the identity of every person who shared the video to NZ Police, putting them in line for stiff fines or even jail time.
"I'm not weighing in on his specific proposal at all," Bickert told the Herald early this afternoon.
"We have to follow the law," she said. In general, Facebook did not proactively hand information to police unless there was "something like an imminent threat of violence".
Edwards told the Herald, "The over-arching questions is: Why did they launch Facebook Live [in 2015] without adequate mechanisms to prevent this kind of predictable abuse?"
Bickert refused to give a yes/no answer to whether she thought Facebook had put enough safeguards in place before it launched Facebook Live. She said any service was imperfect, but Facebook Live's AI and other safeguards were being improved all the time.
'Public safety' argument for leaving livestreaming
And while there has been suggestions that Facebook Live and various video sharing mechanisms should have been temporarily disabled in the aftermath of the Christchurch attack, Bickert said the livestreaming feature also had an important role to play in public safety.
She said last year Facebook's AI and other alert systems picked up around 3400 self-harm or suicide threats made through Facebook Live.
"We see a real-time safety benefit. And part of that is allowing people to share information about human rights abuses, holding government authority accountable … and we've seen people turn to Facebook Live because they're thinking of taking their own life. We're able to identify that either through a user report or technology - and more than 60 times a week alert authorities to someone who needs help."
There were no policy changes planned as a result of the Christchurch livestream, she said.
"The policy is already in place, this already violates our policy," she said.
"We will continue to work on improving our technology as we have steadily been.
She said a few years ago, most hate speech or terrorist-related content was identified through user reports. Now 99 per cent was found via automated systems. But she said with more than 1 million Facebook Live posts per day, it was still challenging to identify all questionable material.
Ardern: horrendous
It remains to be seen if reassurances from Bickert and other Facebook execs will be enough to reassure the Government.
"It's our view that it cannot, should not, be distributed, available, able to be viewed. It is horrendous," Ardern told reporters this morning about the Christchurch clip.
"While they've given us those assurances, ultimately the responsibility does sit with them.
"I want them, very much, to focus on making sure that [the video] is unable to be distributed," the PM said.
GCSB Minister Andrew Little said social media would be on the agenda at the next Five Eyes meeting, while the CEOs of Spark, Vodafone and 2degrees have released a joint letter calling on greater action from social media platforms to remove objectionable content.
Across the Tasman, Australian Prime Minister Scott Morrison has called for a G20-wide crackdown on tech giants. The G20 will meet in June.

> https://www.nzherald.co.nz/business/news/article.cfm?c_id=3&objectid=12214281

"Ardern: horrendous
It remains to be seen if reassurances from Bickert and other Facebook execs will be enough to reassure the Government.
"It's our view that it cannot, should not, be distributed, available, able to be viewed. It is horrendous," Ardern told reporters this morning about the Christchurch clip.
"While they've given us those assurances, ultimately the responsibility does sit with them.
"I want them, very much, to focus on making sure that [the video] is unable to be distributed," the PM said.
GCSB Minister Andrew Little said social media would be on the agenda at the next Five Eyes meeting, while the CEOs of Spark, Vodafone and 2degrees have released a joint letter calling on greater action from social media platforms to remove objectionable content.
Across the Tasman, Australian Prime Minister Scott Morrison has called for a G20-wide crackdown on tech giants. The G20 will meet in June."

---
" Ardern: schrecklich.
Es bleibt abzuwarten, ob die Zusicherungen von Bickert und anderen Facebook-Exekutiven ausreichen werden, um die Regierung zu beruhigen.
"Wir sind der Meinung, dass es nicht verteilt, verfügbar, und einsehbar ist. Es ist schrecklich", sagte Ardern heute Morgen Reportern über den Christchurch-Clip.
"Während sie uns diese Zusicherungen gegeben haben, liegt die Verantwortung letztlich bei ihnen.
"Ich möchte, dass sie sich sehr darauf konzentrieren, sicherzustellen, dass[das Video] nicht verbreitet werden kann", sagte der Premierminister.
GCSB-Minister Andrew Little sagte, dass Social Media beim nächsten Five Eyes Meeting auf der Tagesordnung stehen würde, während die CEOs von Spark, Vodafone und 2degrees einen gemeinsamen Brief veröffentlicht haben,

in dem sie mehr Maßnahmen von Social Media Plattformen zur Beseitigung unerwünschter Inhalte fordern.




Überall in Tasman hat der australische Premierminister Scott Morrison zu einem G20-weiten Vorgehen gegen Technologieriesen aufgerufen. Die G20 werden im Juni zusammenkommen."



(aja! ) 


Kommentar (Zitat):
"Dir ist hoffentlich klar, dass ich mich dazu hier nicht wirklich äußern kann. Sagen wir es mal so: Es spricht inzwischen recht viel für eine Geheimdienst-Aktion mit dem Ziel, kulturelle Unruhen zu stiften, ohne dass bei dem Anschlag verantwortliche Politiker usw. angegriffen wurden. Ein Mann, der lebenslangen Knast oder auch Leben sein riskiert und bloß gegen einfache "Einwanderer" statt Politiker vorgeht, ist entweder dumm oder von oben gesteuert.

Das gilt auch für gewisse "islamische" Terroranschläge, die uns als solche verkauft werden. Wenn ich als Islamist dem Westen schaden wollte und dafür sorgen will, dass z.b. US-Besatzungstruppen abgezogen werden usw., dann gehe ich gegen Politiker und strategisch wichtige Ziele der Infrastruktur eines feindlichen Landes vor. Ich stelle aber keiner amerikanischen (französischen, deutschen, britischen etc.) Oma ein Bein und rufe dabei "Allah ist groß!"

-----------------------
"Eigentlich ganz einfach. Aber die Frage nach dem Cui bono wird heutzutage abgelehnt und verschmäht."


---
RE: Terror in Neuseeland - Rundumblick - 19.03.2019

eine ganze Palette von Videos (nicht das Live-Video) zum Fall (umgeht die Altersbeschränkung von Youtube)

https://hooktube.com/results?search_query=new+zealand+massacre


---
RE: Terror in Neuseeland - Rundumblick - 19.03.2019

hier mal zum Vergleich:

GoPro-Cam:

GoPro Cam video taken off a dead ISIS jihadi | December 2018 | Deir ez Zor province, Syria





top recordings from helmets of ISIS fighters





(in punkto Qualität Film und Ton

interessant auch die Frage, warum die diese Technik hier nutzen)


---
RE: Terror in Neuseeland - Rundumblick - 19.03.2019

New footage emerges moments after Christchurch mosque massacre | ITV News






New Zealand shooting:'We are all unified and grieving together,' says Ardern





New gun laws will make New Zealand safer after Christchurch massacre says Jacinda Ardern





A former white supremacist reacts to New Zealand shootings





Christchurch Terror: Comprehensive coverage from the Nine newsroom | Nine News Australia






---
RE: Terror in Neuseeland - Rundumblick - 19.03.2019

SMI #2030 ?‏ @smartneom 14 Min.Vor 14 Minuten
#SaudiArabia represented by @KingSalman and His Crown Prince #MBS stands in solidarity with New Zealand #Christchurch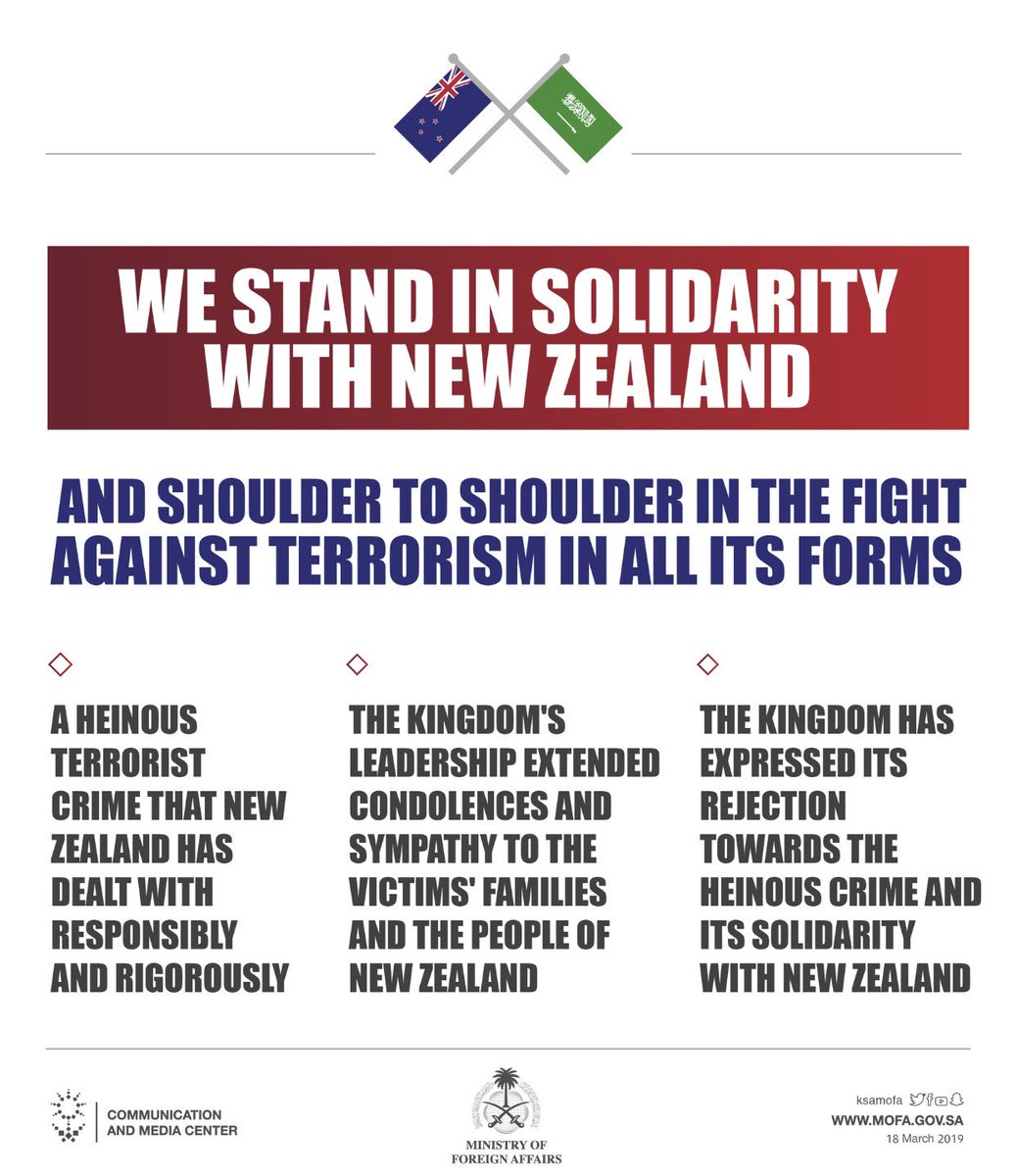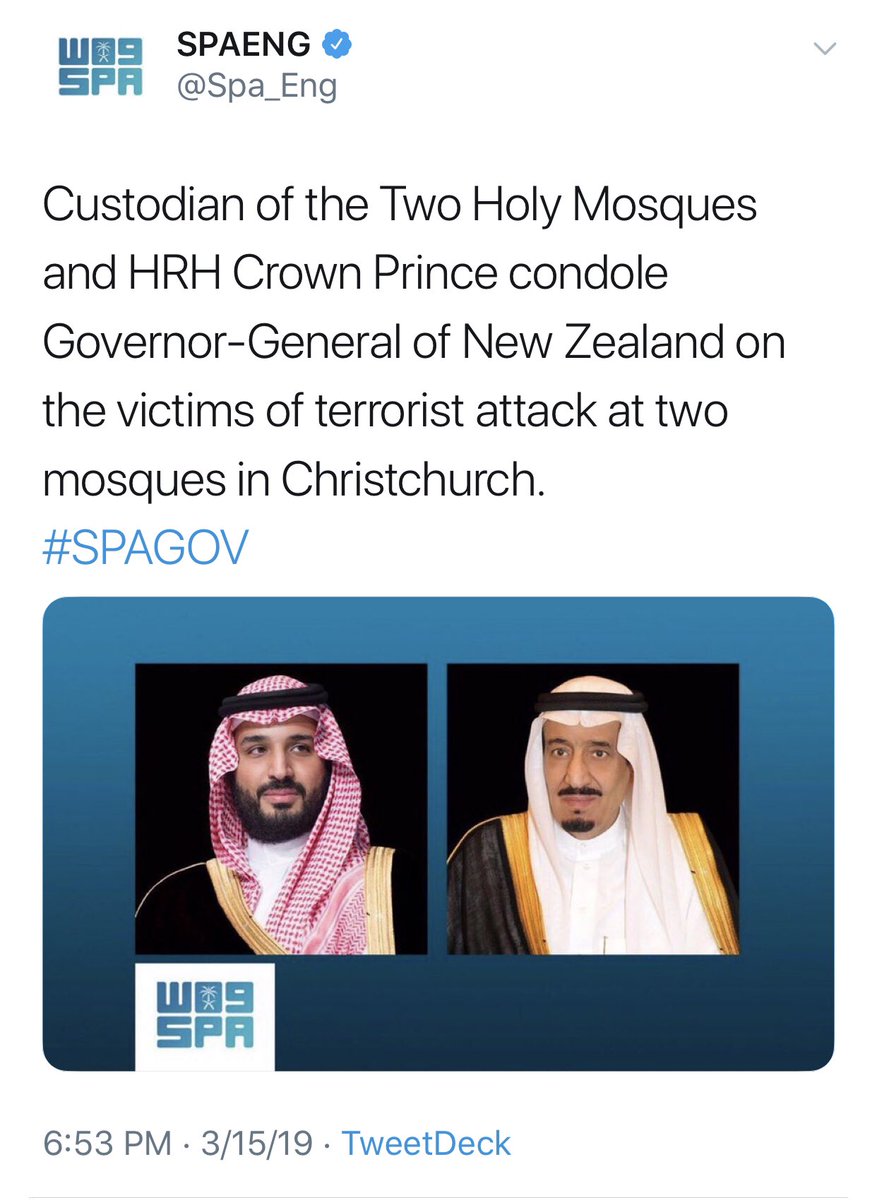 ---