Analysis of
#OPCW
#Douma
reports
Stephen McIntyre@ClimateAudit
I've been reading Wikileaks OPCW documents with keen interest. IMO the most intriguing document is Draft Report of ~Jun 10, 2018, also the earliest document. It was much longer and contained far more information than Interim Report, Jul 7, 2018. Indeed, its structure is identical

to the Final Report. Here is spreadsheet listing documents
http://climateaudit.info/legal/opcw/opcw_wikileaks_summary.csv
.
By June 10, OPCW had sample analyses which disproved sarin allegations promoted by White Helmets, SAMS, UOSSM and US-UK governments, a key finding of draft report. June Draft Report also included epidemiology analysis which effectively refuted possibility of chlorine attack
the June Draft Report also observed that witness testimony from Damascus differed sharply from witness testimony from Turkey (Country X), reported both, carefully distinguishing. (This distinction was dropped in Final Report, which almost totally cited evidence from Turkey).
subsequent events are appalling. Subsequent to June Draft Report, the FFM team who traveled to Douma were shut out of report process. All subsequent reports were drafted by some combination of FFM Turkish team and people who hadn't participated in either mission.
the June Redacted Report chopped out many sections and annexes of June Draft Report (some restored in 2019 Final Report) and reversed key conclusions. A Jun 22, 2018 email from Douma FFM vigorously protested the Redacted Report and asked for right to submit dissent.
after the July 2018 Interim Report, OPCW leadership attempted to limit participation by Douma FFM. Ian Henderson, a member of Douma FFM, carried out ballistic studies which, as is well known, refuted theory that cylinders had dropped from helicopters at Syrian operating height
when Henderson attempted to submit his ballistic report, encountered puzzling resistance. OPCW Chief of Staff Sebastian Braha even ordered that it be removed from OPCW document registry and any trace of its deposit be expunged.
unbeknowst to Henderson, the FFM (Turkey) had commissioned their own ballistic reports which proposed a reconciliation of large crater and little cylinder damage through "low speed" drop - while shutting their eyes to implausible operating altitude implied by low speed drop.
OPCW released their Final Report on Mar 1, 2019 without the involvement of the FFM Douma team, which objected strongly to their findings.
the structure of the Final Report and June Draft Report are more or less identical, as are the annexes. Indeed, some of the sections and annexes in Final Report that are "new" relative to Interim Report were already in June Draft Report.
the major changes are in the ballistics and epidemiology sections. There has been quite a bit of online discussion about ballistics over the past year, but the changes in epidemiology are just as important and just as questionable.
Example of OPCW deception. June Draft: difference in symptoms reported by witnesses in Damascus vs in Turkey. Damascus witnesses reported symptoms "commensurate with dust and fumes" from bombing; Turkey witnesses reported "chemical" symptoms. Final Report based only on Turkey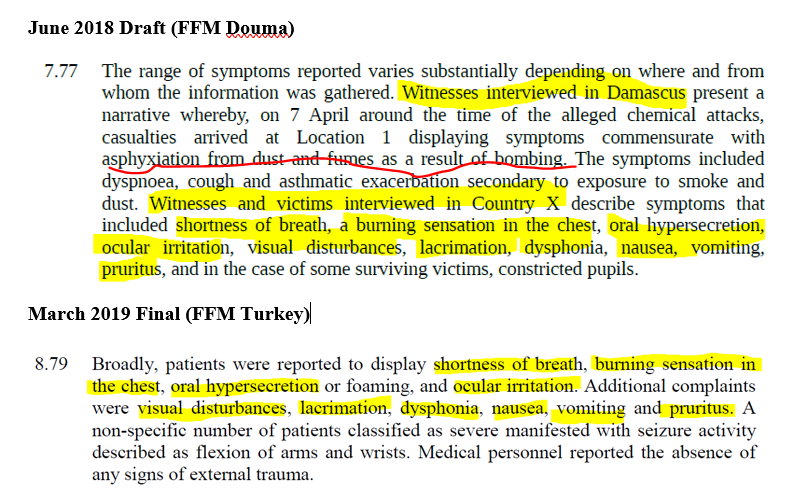 this is a very clear example because wording can be traced between two documents. June Draft provided more complete and more honest account of witness testimony. March Final withheld testimony from Damascus, only giving testimony from jihadi partisans in Turkey
moving to Epidemiology, here are two comparable paragraphs from June 2018 Draft and Mar 2019 Final discussing symptoms observed in videos. Mostly similar, but note changes. - comment on brown-stained skin deleted - June (red): froth/secretions DON'T show pink hue from blood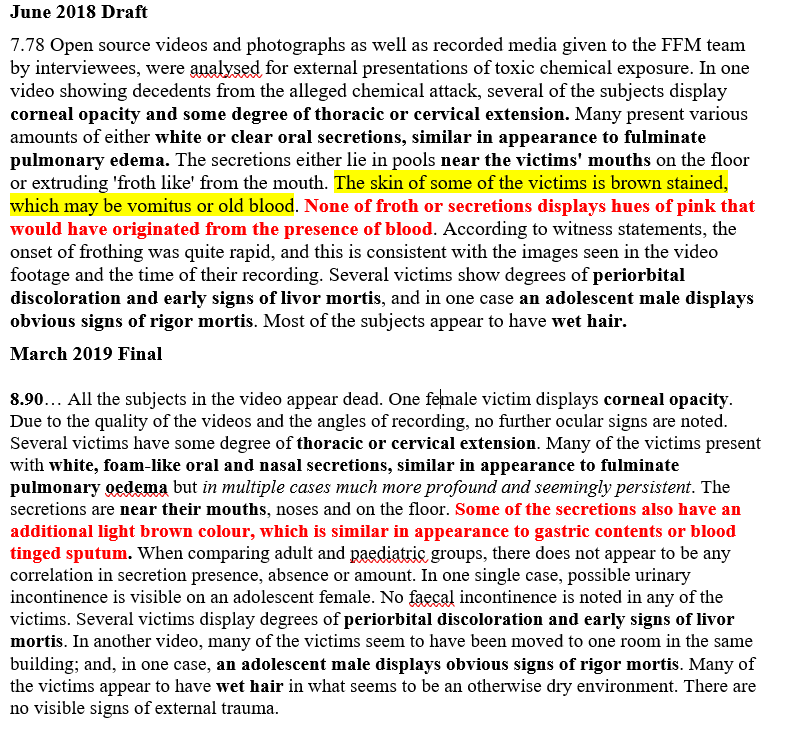 but in March Final, opposite is stated: that some secretions have light brown hue characteristic of blood tinged sputum. Original comment appears to have been from FFM Douma team; changed by FFM Turkey team.
comment on hospital videos in March 2019 Final mostly tracks June 2018 Draft. Other than three pediatric patients (infants), adults and all other children display none or mild respiratory distress. Report of no "frothing" in Draft deleted by FFM Turkey in Final.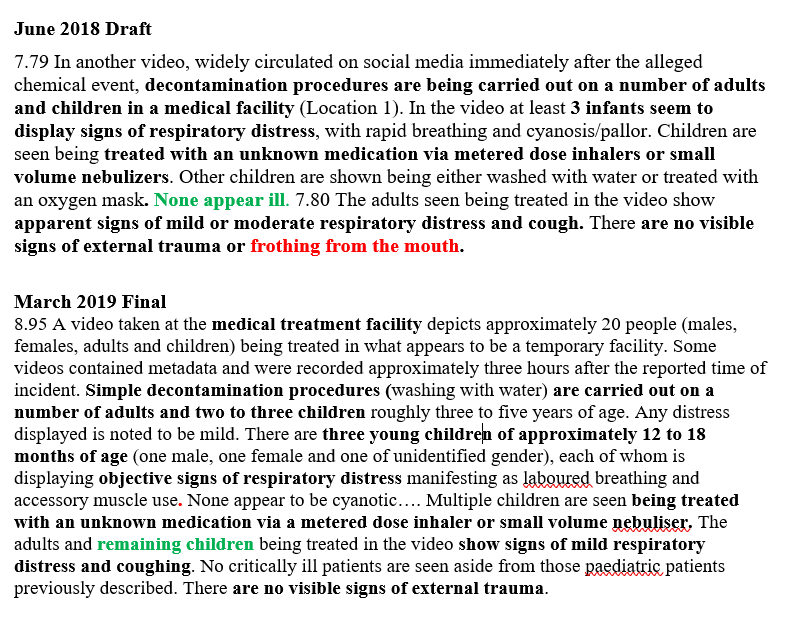 now we start getting to the crunch. June Draft stated contradiction clearly: crime scene at apartment with dead bodies was "more consistent with exposure to a highly toxic nerve agent than a choking agent such as chlorine or phosgene", but analytics showed NO organophoshates.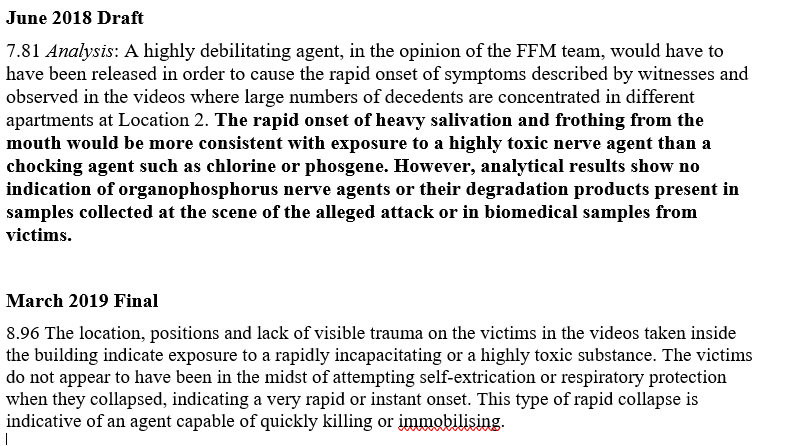 this contradiction was fudged in 2019 Final to point of concealment. They agreed with June 2018 Draft that "location and position" of victims in videos "a very rapid or instant onset", but deleted previous information that this counter-indicated chlorine attack.
next a battleground contradiction. June 2018 Draft observed that white froth secretions inconsistent with "exposure to choking agents" e.g. chlorine, where secretions pinkish (blood), also that "rapid" even "immediate onset" of frothing inconsisent with chlorine.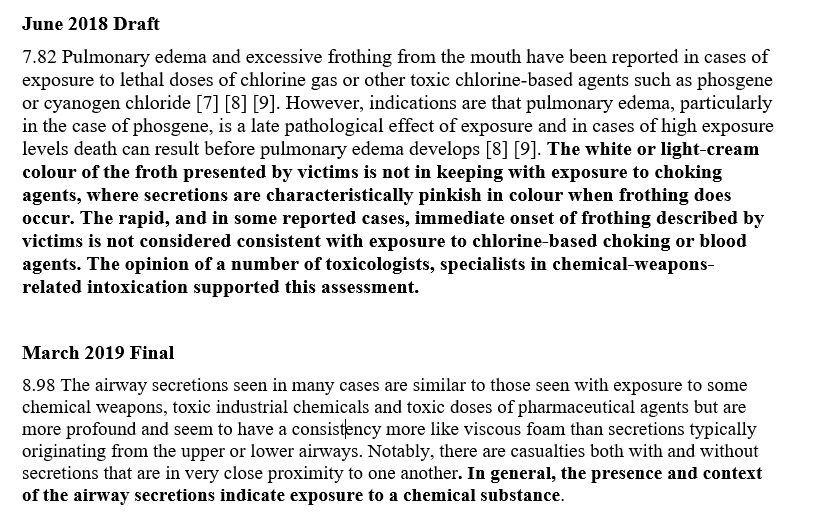 Douma FFM team noted that they had verified this opinion with "toxicologists, specialists in chemical-weapons-related intoxication". Minutes of their June 6, 2018 meeting are included in Wikileaks documents
https://wikileaks.org/opcw-douma/doc
in contrast, corresponding paragraph in 2019 Final is word salad. They say that secretions show "exposure to some chemical weapons, toxic industrial chemicals [etc] but are more profound and seem to have a consistency more like viscous foam". They evaded
the key inconsistency observed by Douma FFM team: the inconsistency of these symptoms displayed in the videos with chlorine or similar "choking agent".
next paragraph of June 2018 epidemiology raised another contradiction: rapid incapacitation such that no escape requires high concentration, but, under high concentration, asphyxiation would take place prior to frothing. Deleted in Final Report without rebutting.

paragraph 7.84 of June 2018 epidemiology also removed by OPCW without rebutting. Citing peer reviewed literature, June Draft observed that "people will escape however possible " and "victims would instinctively have retreated and exited building", exit only few metres away

this section of 2018 Draft ends forcefully whereas 2019 Final is limp and evasive. FFM Douma stated "chlorine gas...would not have resulted in the severe and rapid frothing symptoms reported by witnesses and observed in video footage and photos"; 2019 Final ends with wet hair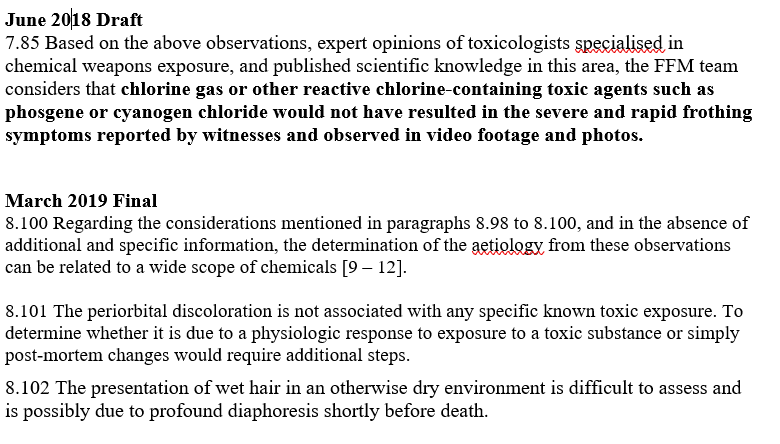 both 2018 Draft and 2019 Final cite 3 elements of epidemiological analysis, third of which: "there must not be any likely alternative explanation for the symptoms". Despite advertising this criterion, this element of analysis was totally omitted in 2019 Final (but not Draft)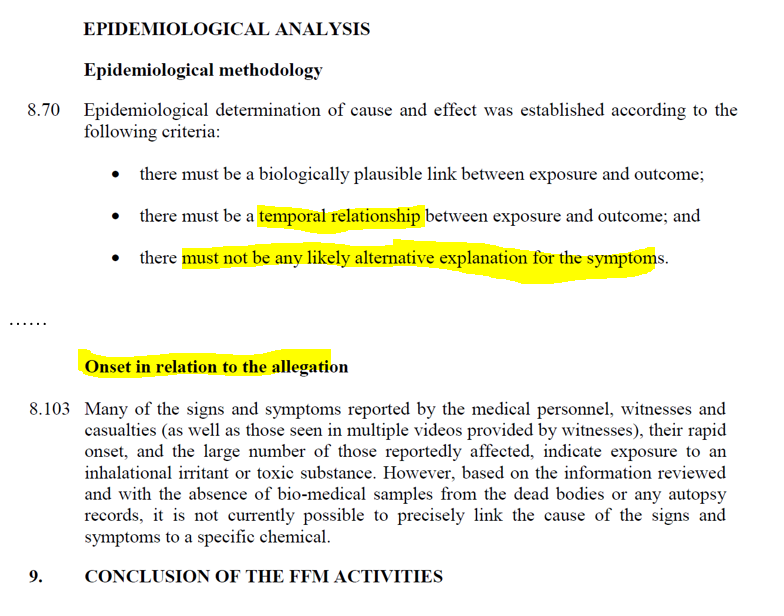 watch what June Draft said. Having shown rebutting evidence against both sarin and chlorine, they first ask whether there might be "some unknown highly toxic chemical, which so far has eluded detection", but observe "no evidence" for this.

---------------------------------------------------------------------------------------------------------------------------
You should write and publish a full article on your findings in one of the Alt Media resources or go to one of the many YouTube Alt Media shows.